Library orientations are now complete for our new cohort of students. Its now time to look at all the questions that were asked and provide a space where all can be answered. From opening times to printing, from reservations to stressless, we will provide information dedicated to answering these questions and provide helpful links for you to further understand the library. Don't forget, It doesn't end here, if you still have questions, then Just Ask!
Our library orientations were really successful this year and you used the opportunity to ask some really great questions. Moving forward we will take a look at the questions you asked and set you on a path to understanding the services that are available to you and how we can help you throughout your studies.
Your Learning Skills Team & Hub
We were asked:
If we are unsure what book is beneficial for us, is there anybody that we are able to talk to who can help us grasp a better understanding?
How to book an appointment to meet the learning developer?
Does the 1-2-1 session still take place online or can it be face-to-face?
Do we have to arrange a meeting with the learning skills team ourselves?
Do all students have a session with the Academic Librarian?
I followed the links sent to me to use refworks. I have downloaded it on my laptop. But it is not accepting my login details. Please can I book a tutorial as I need to use it urgently?
Will the library team offer help and guidance with referencing?
Can you go through referencing?
Could you go through referencing if that's possible?
Can we use books we borrow from the library for referencing?
Can e-books also be used as references?
Librarians and Learning Skills Developers
Each school has at least one librarian and learning skills developer in place to assist students with all their research and studying needs. There will be times throughout a course when academics will arrange for sessions to take place for example, finding online resources and referencing. However, students also have the opportunity to book one on one sessions with both librarians and developers, depending on the help required. Currently, these sessions are still taking place virtually, but will eventually return to a face to face opportunity.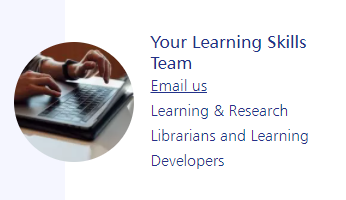 Visit the Learning Skills Hub where you will find, meet your faculty learning skills team. Following the links by school you will find the individuals that work within your subject and gain access to the calendar to book a session. Alternatively, you can drop the team an email using the link at the top of the screen.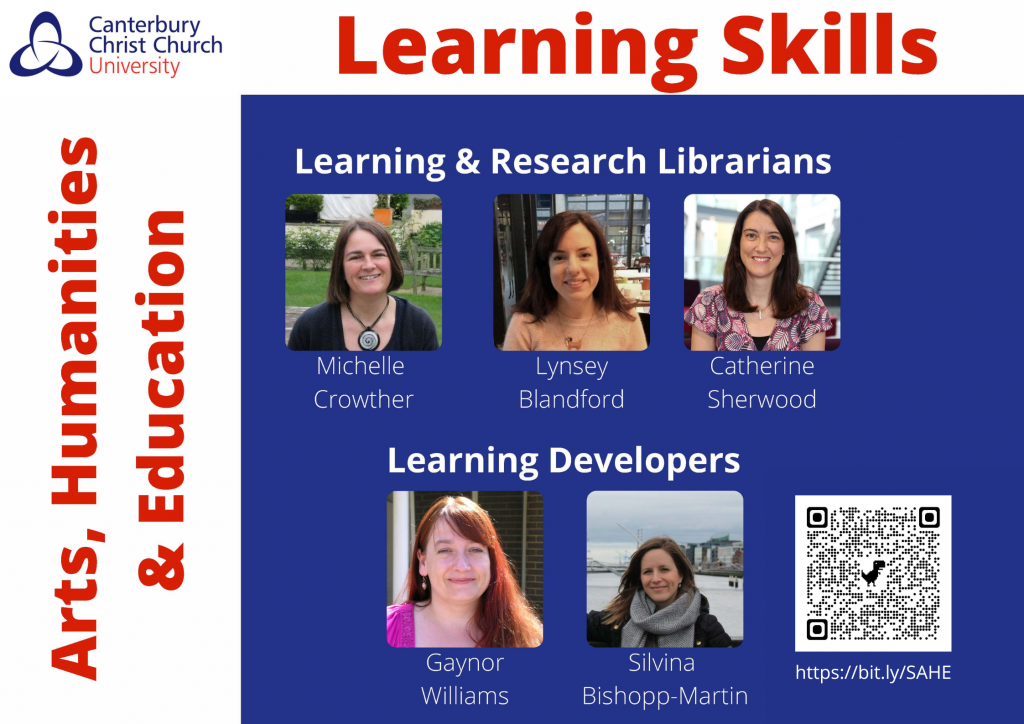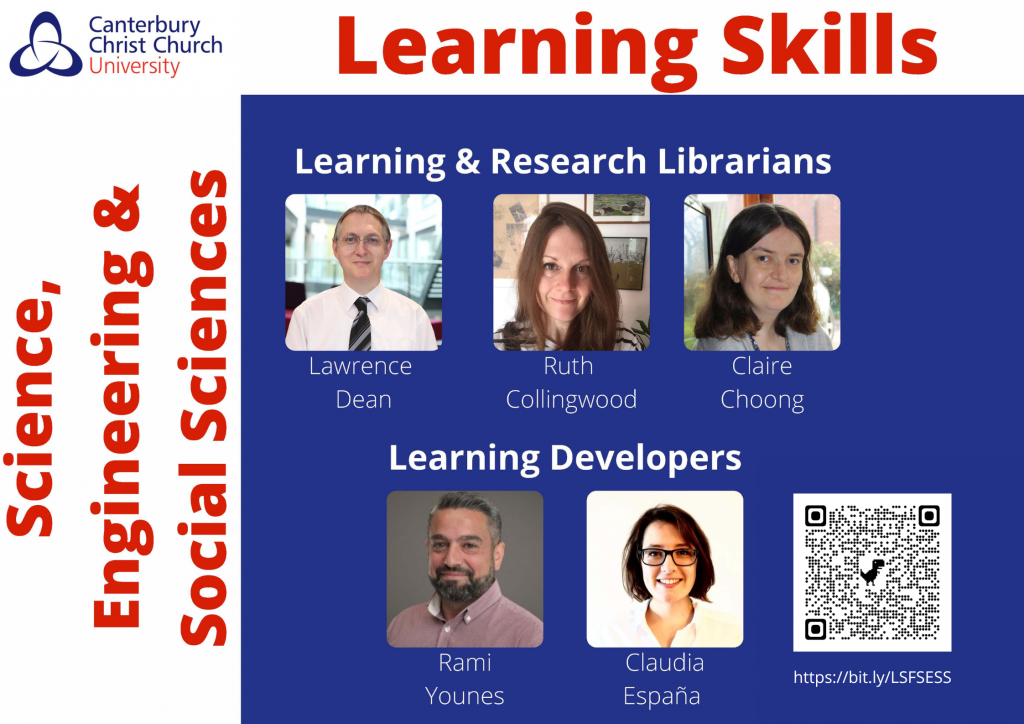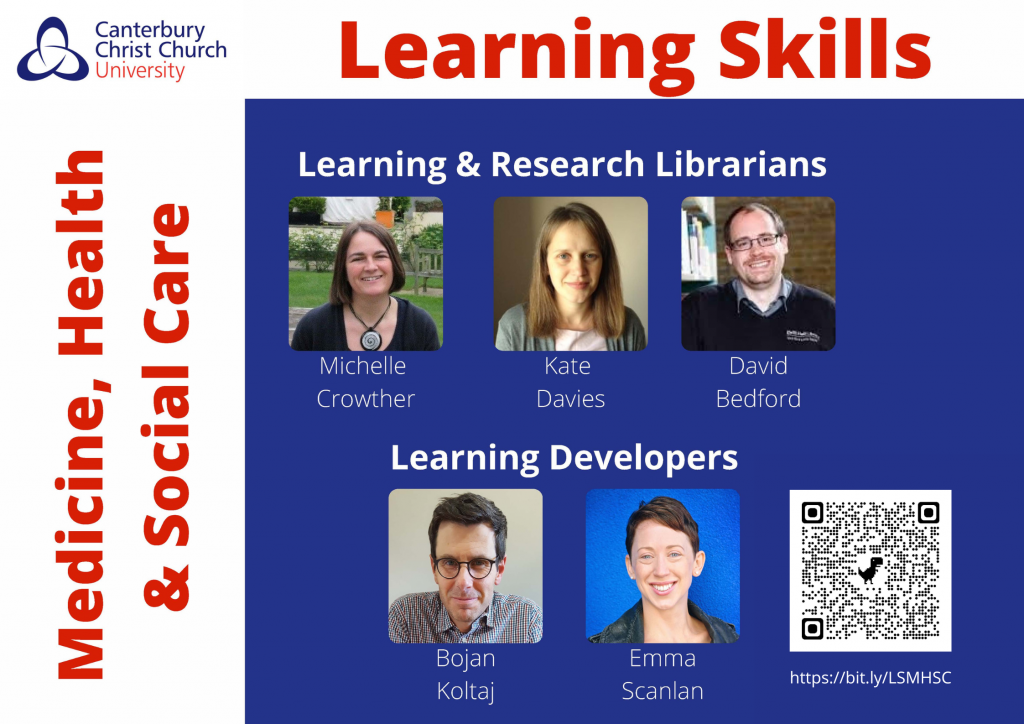 Learning Skills Hub
If you are unsure of how to do something or wish to develop your understanding of a process better then the Learning Skills Hub is a great place for you to start. Created with Canterbury Christ Church University students in mind it has been designed to help and assist you with many of your study and research needs. On the hub you will find a wide range of modules for you to look at and work through; these fall within the following categories;
Getting started modules
Finding information modules
Understanding information modules
Study skills modules
Academic skills modules
Writing skills modules
Referencing skills modules
Academic integrity modules
Research skills modules
Digital skills modules
Disability and wellbeing modules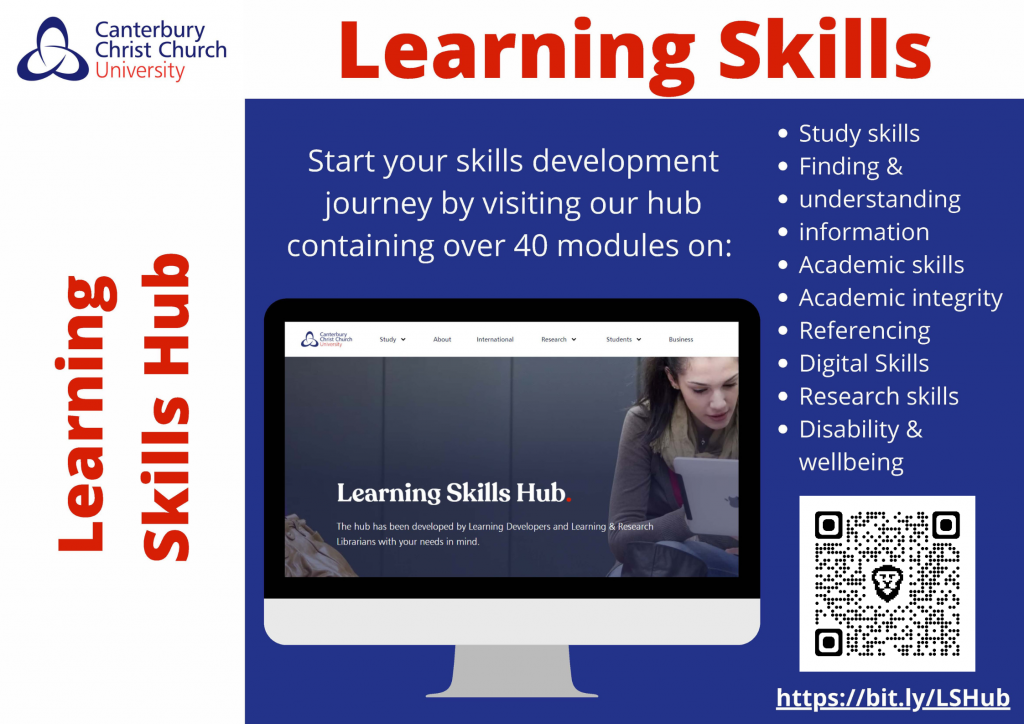 Referencing
The University generally uses the Harvard referencing method, however, some courses do prefer other methods; if this is the case you will be informed via your course. It is important that you learn how to reference and reference all materials you use for your assignments and exams throughout your course.
Firstly you can find modules on the Learning Skills Hub to support you and develop your knowledge of referencing;
Secondly you can find a physical copy of Cite them Rite in the Library, or use the online resource.
Thirdly you could use REFworks, a management system, designed to assist in referencing resources by allowing you to gather, store and organise your references.
Finally, you can use our copyright helper, which can be found on the LibrarySearch homepage.
In Need Of Additional Support
We were asked:
Is there support for accessing books and things in the library for students with learning difficulties such as dyslexia?
I am a disabled student, I was told there is a shuttle service to Augustine House. Where do I get the shuttle service from?
Who do I speak to about getting longer to have books out?
Many of the services in the library have been designed to provide an equal service for all staff and students; however, there are some additional support options that can be used by those that require them.
Within the library we offer a book fetching service, where we will collect items from the Augustine House shelves for you, if you have difficulty doing so yourself. Additionally, we have the scan and deliver service where we can scan a portion of a resource and email it to you if you have difficulty coming in. Finally we provide options for you to request items in alternative formats to what we currently have, for example large text or audio. You can find more information on the following webpage and gain access to the forms for all three options.
Additional support might also be provided through the Disability team, for example extended loans on seven day items. More information can be found here. The Disability team will also be able to advise on other matters such as access to transport facilities.
Postgraduate Information
We were asked:
I'm starting my Msc this year and wondered if there are any additional services for postgraduate students?
Head on over to the 'library support for postgraduate's' webpage for further information on how we can support you.
External Users
We were asked:
Can a student from another university study at the library if they are with a CCCU student?
Are you allowed to bring non-uni students with you to Augustine House library?
Is it okay to bring my partner for study sessions? or is it students only?
Is the library only for students? Like would I be able to bring my partner every now and again?
Can you still access the library with a baby/child with you?
# Visitors and external users are currently not able to use the library due to COVID guidelines
Visitors and external users are welcome at Augustine House Library during general staffed hours (9-5) as long as it does not fall with the 24hr exam/assignment period. For the most up to date information please view our website.
We ask that all visitors and external users check in with the main reception on arrival in case of any building emergency.
You can bring children into Augustine House when you are studying, if there is no other option. Please find an appropriate area of the building to work in and keep in mind other users.
External User Membership
If you are visiting the library on a regular basis to use the the building for research/study then you should apply for an external membership account. The cost of this is £100 per year, which will allow you to borrow resources and use the visitor PC. Further information can be found here.
Visitor PC
The visitor PC is located on the ground floor, opposite the Library Point. You will need to sign-in at the Library Point every time you wish to use this PC – you will need to create an account on your first day. You will have access to the internet, Microsoft software and some FREE academic journals or articles.
SCONUL (academic study)
Any student can apply for a SCONUL account. This will allow them to use and study at other university libraries; this can be especially useful when going home for the holidays. Students would need to apply through their home library and then take their university ID and confirmation email to any university library they would like to visit. It is worth checking with the library you want to visit first to make sure your SCONUL banding is accepted. Full time undergraduates can apply for a SCONUL reference account only.
Printing and Printers
We were asked:
How do we print stuff in the library?
Does the library have printers and if so is there any payments made/required or a limit to how much one can print?
Can we print our works or assignments for free or do we need to pay if we use any printers in the library?
Do we have to pay for the top up if we run out of money which's £15?
Does it cost money to scan/print?
Printing services are free or does it cost?
How much does it cost to print?
Does printing money not used in previous year follow on in next year?
Is there a limit on how much you can print?
How much does it cost for one print?
How do you print from a laptop?
Can I have the link to print from home?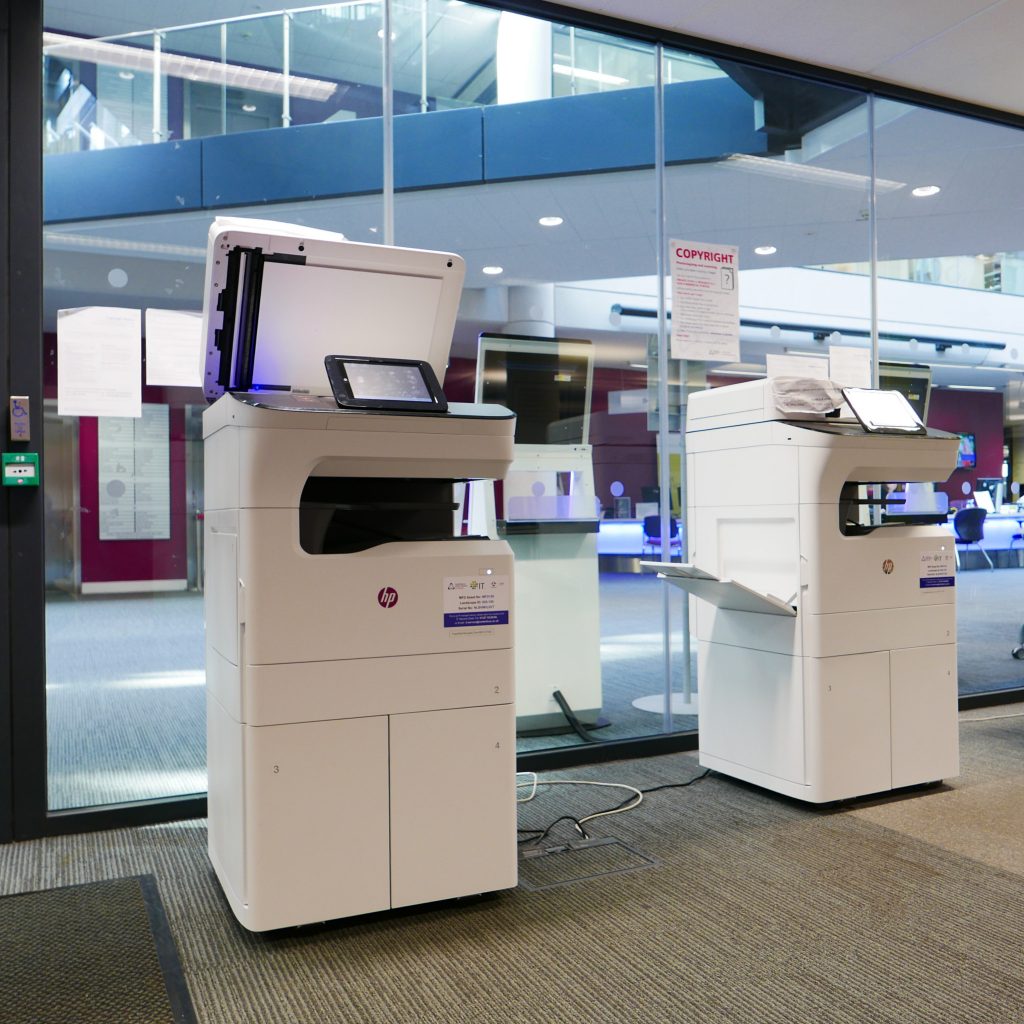 There are multi-functional devices (MFDs) scattered across all floors of Augustine House. These can be used to print, scan and photocopy.
Every student is issued with £15 printing credits at the start of their course and this is repeated at the beginning of every additional year of study. You cannot use this credit for anything other than printing/photocopying so if it is not used by the end of the course it will get deleted. Once you have used your £15 credit you will need to top it up yourself either or by visiting the Library Point.
Printing and Photocopying costs
| | |
| --- | --- |
| Print type | Cost |
| A4 Mono single-sided | 4p |
| A4 Mono double-sided | 2p |
| A4 Colour single-sided | 12p |
| A4 Colour double-sided | 6p |
| A3 Mono single-sided | 8p |
| A3 Mono double-sided | 4p |
| A3 Colour single-sided | 20p |
| A3 Colour double-sided | 10p |
I-print
To print from a laptop or other device we provide I-print. This system will allow you to select documents and send them to the MFD's in Augustine House. You can also use this option from home, sending any work to be printed to your account. The documents will remain on your printing account for three days before it deletes itself.
The University Bookshop
We were asked:
We have a book bundle for our course. Are book bundles also available in the library?
You can find and purchase books bundles from the Canterbury Christ church University Bookshop. The bookshop can be found in the centre of the Canterbury Campus situated in the Laud building.
Book Bundles can be purchased on the bookshop website and then collected from the bookshop. Book bundles are created from Key texts that students will use throughout their course and are subject specific.
The Stressless Area
We were asked:
Did I hear Correct free massages at the stresszone?
Are there timetable for the massages in the stressless zone?
The Stressless Area appears during the exam and assignment period and can generally be found on the second floor of Augustine House. This area is setup to provide students with a space to relax, breath and take a time out from their studies.
The area is composed of a relaxation zone and social zone:
The Relaxation Zone
Here you will find sofas, air dome and giant bean bags for you to chill and relax on/in. Chat with your friends or help yourself to a book/comic and have a relaxing read. You may also find a gadget or fidget toy to play with and development a mindful nature before returning to your studies.
The Social Zone
Come along with some friends and whether you play a game, get arty crafty or chill with some colouring, you can relax have a laugh and take some time away from your studies.
Drop in sessions
The library, as well as other departments, often hold drop in sessions for students to come along to enjoy and try out. In the past this has included FREE hot chocolate, biscuit decorating, Christmas crafts, FREE fresh herbal teas, growing your own sunflowers/daffodils/herbs and massage.
# Stressless will currently be altered to meet COVID guidelines, so not everything will be available – watch this space
I hope you have found the above information useful; You can find a link to the first and second part below.