Library orientations are now complete for our new cohort of students. Its now time to look at all the questions that were asked and provide a space where all can be answered. From opening times to printing, from reservations to stressless, we will provide information dedicated to answering these questions and provide helpful links for you to further understand the library. Don't forget, It doesn't end here, if you still have questions, then Just Ask!
Our library orientations were really successful this year and you used the opportunity to ask some really great questions. Moving forward we will take a look at the questions you asked and set you on a path to understanding the services that are available to you and how we can help you throughout your studies.
Working In The Library
We were asked:
What floor is the library?
Is the library spread into three floors?
If we are arriving late to campus can we still come in and get help accessing the library?
Do you have any zones for studying together with other people from other courses?
Where will I find the just ask pods on the 2nd and 3rd floors?
How many computers are available across the library? What are the busiest times to avoid?
Is there free wifi in the library?
Can I bring my laptop to the library and connect to a monitor to give myself two screens?
Are there plug sockets in the library to charge your laptop?
How do you book a group room (x2)?
Augustine House Library can be found throughout Augustine House, with areas being found on all four floors.
On the ground floor you will find the Library Point, Self-issue and self returns machines; while the physical resources can be found on the first, second and third floors.
There are study spaces throughout the building, designed to meet different needs and styles of study.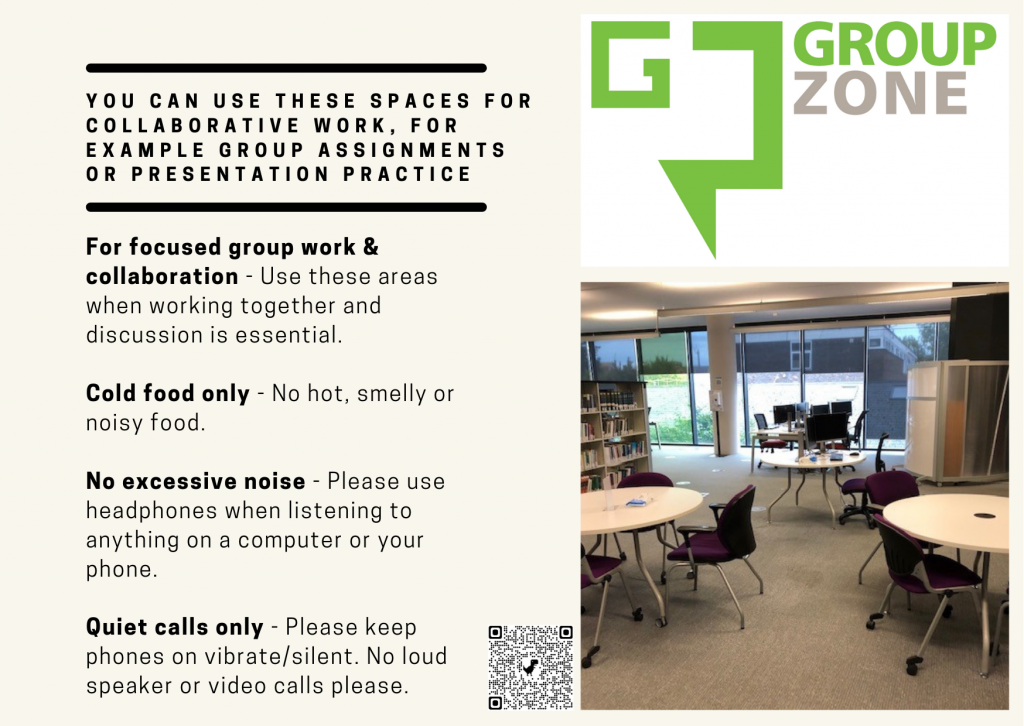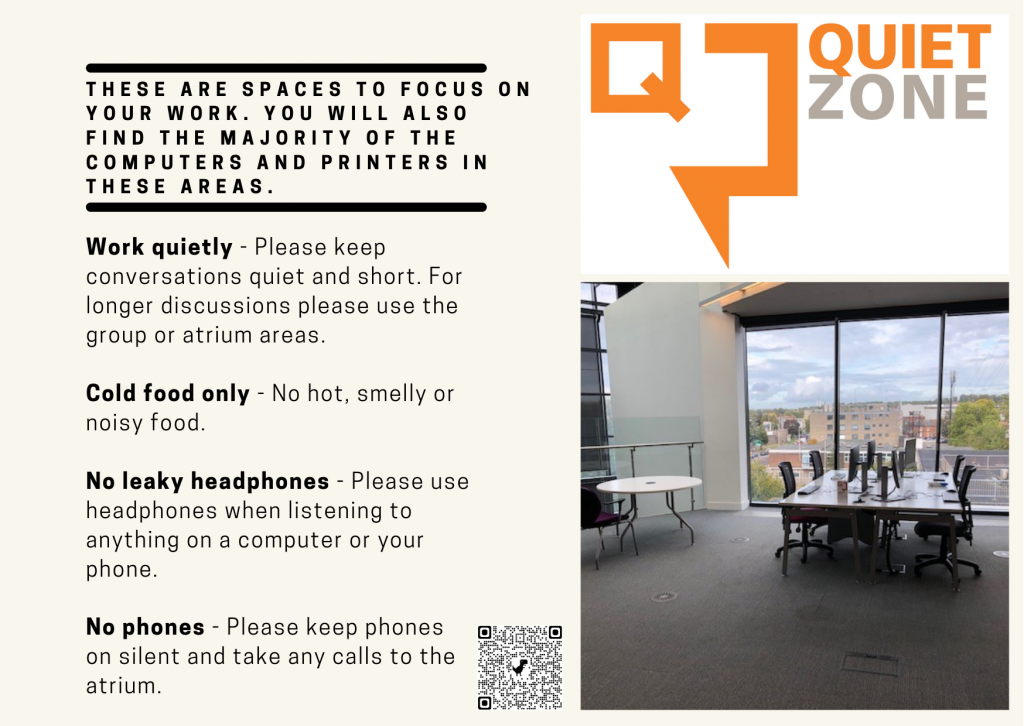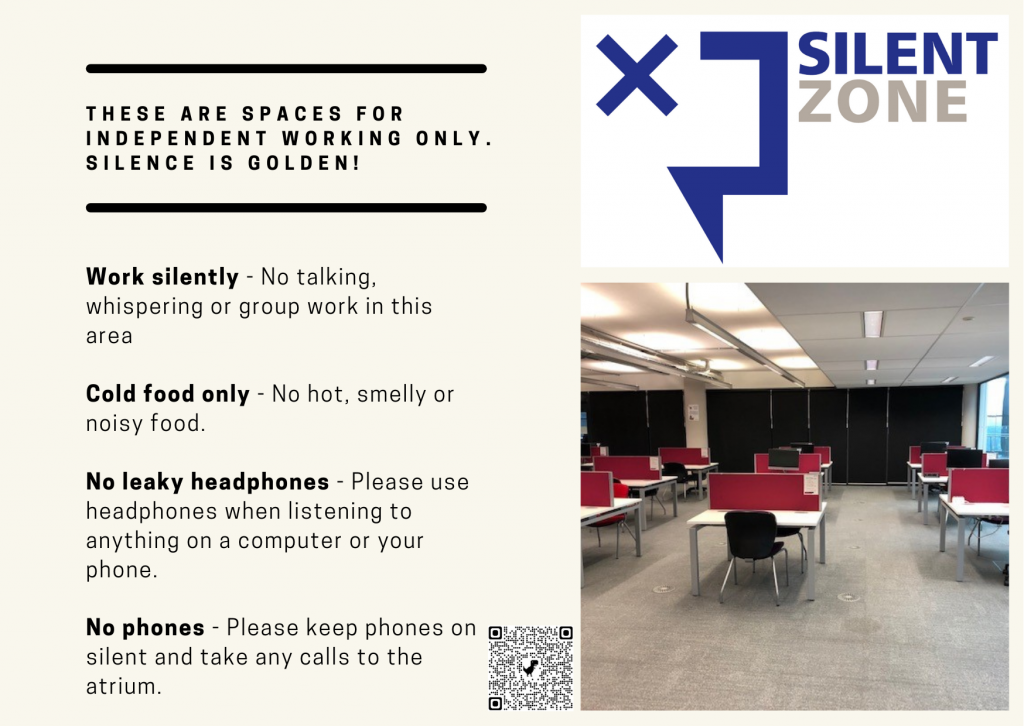 There is also the atrium which can be used for studying, as well as socializing.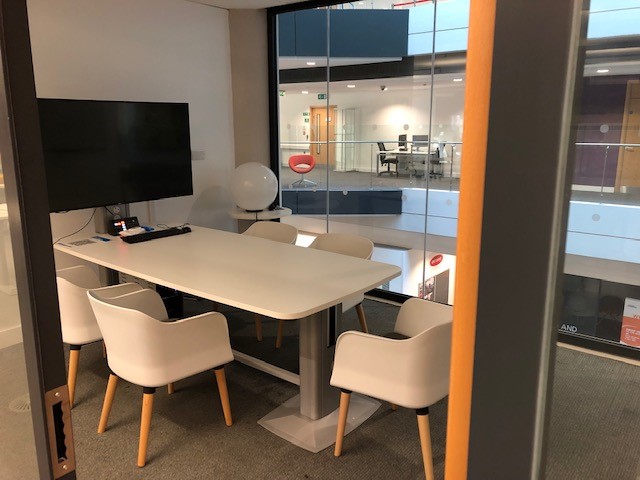 We have six group study rooms within the building, which can be booked for group use. A link to book these spaces can be found on the study spaces webpage.
On the first, second and third floors you will find the moving shelves, located at the back of the floors and the open shelves which run the length of the floors. You will also find a Just Ask pod positioned near the middle of each floor, which will allow you to call for help.
You will find computers scattered throughout the library, including the atrium; with some areas also providing access to MAC's. You can use one of our i-borrow laptops which you can find in one of our charging cabinets, again scattered throughout the building. Or finally bring in and use your own device, which you can use in any of our study areas or even use one of our docking stations to connect your laptop to a monitor.
You can get an idea of what's available here or by checking the IT screen as you enter Augustine House ( This provides a regularly updated usage count for all Augustine House computers and their general locations.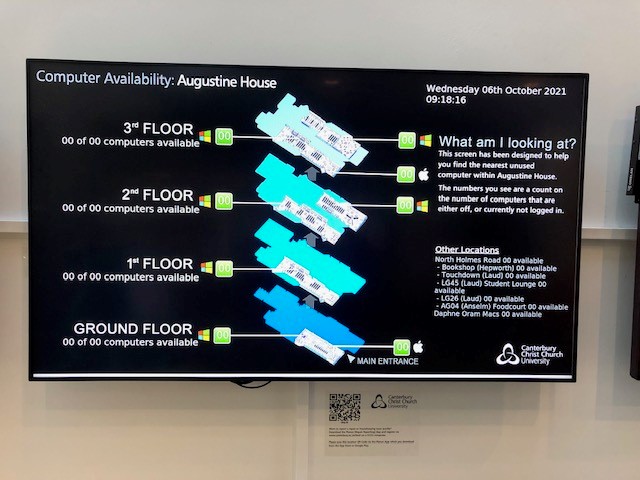 Understanding LibrarySearch
We were asked:
I've had difficulty, previously, trying to use the librarySearch page. I'm a student teacher looking for the books I need for the year?
Can you use librarySearch from home or just at the library?
LibrarySearch is what we call Canterbury Christ Church Universities Library Catalogue, where you can find information on both physical and electronic resources, as well as other support and information. You can access LibrarySearch on campus or at home, using a range of devices such as computer, tablet or phone.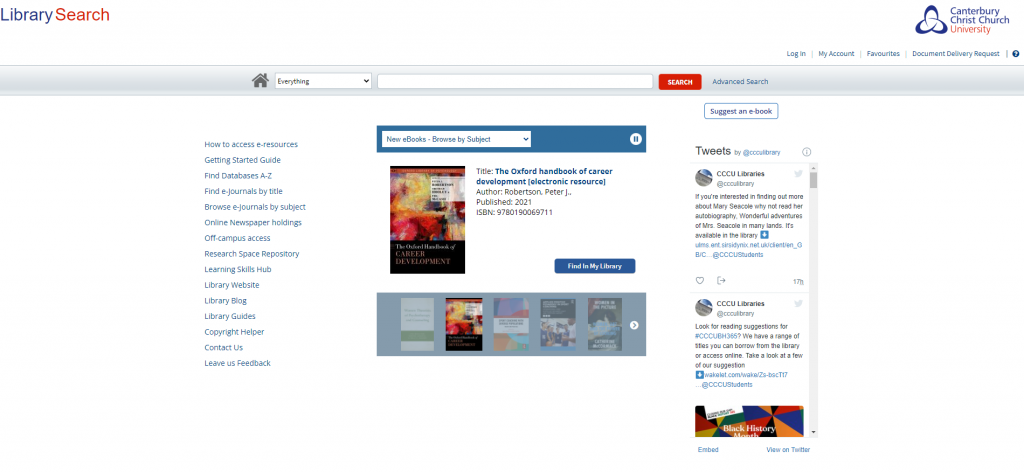 Along the top of the panel you will find the following options;
Log in:- This is extremely important as this allows you access to online resources, reservation options and account details. Onsite it should log you in just with a mouse click, offsite you will be required to enter your username and computing password. If successful your name will appear at the top.
My Account:- Here you can find general information about your library account such as items on loan, reserved items & status and any outstanding fines. You can also renew items here if you wish.
Favourites:- You can save items from LibrarySearch to access later on; this is where they get stored. Its important that you save the items in a created folder rather than the temporary list, as this will disappear once you close LibrarySearch down.
Document Delivery Request:- If you are looking for a particular item and it doesn't appear in our catalogue, then there is a chance we can get you a copy through Doc Del. All you need to do is complete the form and we will do the rest.
Suggest an E-book:- Situated below the others, suggest an e-book is another option to allow you to get access to something we don't currently hold.
On the left you will find a whole host of useful links, providing support and help in multiple library and research based areas; library website, learning skills hub, research space repository and copyright helper to name just a few.
Searching for resources
If you are looking for a particular item then you can always search using the full title; another option would also be to select key words from the title and then include the authors surname. For a much wider, general search try different word combinations, for example we are looking for something on healthy eating, so, we could also search for nutrition, diet, food energy, good health.
Physical resources – Things to know
Library – Where is the item located i.e. Augustine House, Salomons, Drill Hall.
Loan type – (Augustine House related) 4 week loan items will always be found on moving shelves, everything else on the shelving that runs the length of the floors.
Classmark – You will need this, in full, to locate the particular item you are after. For example, 370.19 BAL; 370 directs us to the second floor, once we have found this section we use the additional numbers and letters to focus our search.
Collection/status – If it says main collection then you should be able to find the item in the library, however, if there is a date, this is to signify that the item is out on loan and currently due back as shown.
Electronic resources – Things to know
Sign in – Whether you are onsite or at home you need to make sure you are signed into LibrarySearch to gain access to online resources.
View content – Once you find an online resource you would like to access, click on 'view content'. this will provide you with options for where you can find your item.
How To Request A Book
We were asked:
What can I do if a book I want is showing as available from a different library?
How to request books?
Where can you request books?
When borrowing books from another campus, like Medway, do we have to collect the book from Medway or will they be made available at Augustine House?
How long does it usually take for books ordered to be available in local campus?
So you may have to return a book even if you still need it?
If I am asked to return a book but I am on school placement, will I be able to extend the deadline to return?
There will be times when you need to place a reservation on an item rather than being able to collect it from the shelf, this will occur if;
All copies of the item at your home library are on loan.
Your home library does not have this particular item, but it can be found at one of our other campus libraries, for example (home library) Canterbury, (book available at) Salomons or Drill Hall.
To place a reservation, log in to LibrarySearch and find the item you would like to use. A reservation button should appear to the right of the item. Selecting this button will then give you the option to select where you want to collect the item from.
You can follow the progress of your reservation by log in into LibrarySearch and selecting 'my account'.
When your item is ready
You will receive an email to notify you when your item is ready for collection.
You will have one week to collect your item before it is returned.
You can collect your item from the reservation shelves located in the library.
You will find your item in alphabetical order by surname.
You must remember to use the self-service facilities to confirm you have borrowed the item.
What to do if you receive notification that an item you have on loan has been requested
If you receive an email to inform you that an item you have has been requested by another user, then you will have until the due date to return this item. Requested items do not automatically renew, so any item that is late, due to a reservation will incur fines. Once a reservation has been satisfied other copies will automatically renew themselves.
The Libraries Resources And Loan Types
We were asked:
Will all of the books that our tutors recommended be in the library?
What was the thing called for teacher lesson planning again?
Where can we find Curriculum Resources?
What if I lose a book or it gets damaged?
Is there a procedure whereby if you damage a book, you are fined?
Is there a limit to how many books you can take out?
What is the time frame for borrowing books from the library?
How long can we keep books with us?
What's the longest period we can borrow books for?
For books with multiple loan options ie 4 week loans and 7 days loans that are located in the same location – are the books labelled with their specific loan period?
If we want to take out an item more than once do we have to return it for a certain period of time before we can take it out again?
Augustine House library offers a wide range of physical resources including text books, fiction books, CDs and DVDs. The collection is updated yearly to keep it fresh and relevant, aiming to meet the needs of all courses being taught at Christ Church University.
As part of this we work hard to make sure items that appear on reading lists are available for students to use either in the library or as part of our online collection.
The physical resources are available in four different loan periods:- four week loan, seven day loan, twenty-four hour loan and reference. All four week loans can be located on the moving shelves, on each floor, these do not have any identifying labels. While the other loan periods can be found on the open shelves on each floor, each presented with their own identifying label.
You can borrow a total of:
20 items from the 4-week loan collection
6 items from the 7-day loan collection
2 items from the 24-hour loan collection
20 items from the curriculum resources collection
1 iBorrow loan laptop
Curriculum Resources
We also have a collection which is designed to assist trainee teachers and those working with children to plan lessons, deepen a child's learning or to be used within the classroom setting. Curriculum Resources can be located on the second floor of Augustine House, with the majority being found on the moving shelves; a small portion can be found on the open shelves closest to the moving shelves. The collection includes text books, work books, fiction books, objects, resources and posters; all of which are four week loan periods.
Damaged or Lost items
The important thing to do if you lose or damage an item is to let us know as soon as you can and then leave it with us; please don't worry about looking for or buying a replacement item, as we have to go through internal channels for such things and would not be able to accept the item.
We will do our best to find the best replacement price for you; this will include a £5 admin charge for each item that has been lost or damaged. If the item was stolen, report it to the police and get a crime reference number, this way we can deal with the charges.
For further information, including charges for loss or damage to i-borrow laptops please visit the website.
Self-Issue & Returns
We were asked:
When putting the books on the shelf to borrow them, do you have to separate them?
Am I allowed to borrow books without my smartcard?
If we lose our smartcard whilst loaning a book, how do I return it without any issues?
You don't need your smart card to return a book? Only when you are taking books out of the library?
What's that machine that sucks in the books?
Is it possible for the returns machine not to send a confirmation email?
How the taking and returning machines examine our uni emails?
Is there a penalty for not returning books on time?
We offer both an in-person service and self-service facility in Augustine House Library; this is designed to make work as quick and as efficient for students as possible.
Self-Issue machines
You can find three self-issue machines on the ground floor of Augustine House opposite the i-zone and lifts. To operate these machines:
Using the touch screen menu select the borrow option.
Place your university smartcard on the log in area, this will link the system to your personal library account.
Place a maximum of five items onto the self-issue shelf and once they have all been listed on the screen remove them.
Once completed wait for the machine to log out.
You will receive an email confirming what you have borrowed and be provided with the current due dates ( due to the importance of this information these emails cannot be turned off).
If you are trying to borrow an item that is too big for the self-issue shelf then please take it to the library point during staffed hours and we can issue the item for you.
If you forget your library card then we can issue items for you, at the library point, during staffed hours. You will need to make sure you have photo ID with you to complete the transaction.
Self-Returns machines
You can find the two self-returns machines on the ground floor of Augustine House next to the library point. To operate these:
(You do not need your smartcard to return items)
Using the touch screen select return.
Place one book in the slot until the conveyer belt starts moving.
Place the book on the conveyor belt.
Wait for the slot to turn green before returning your next item.
You will receive an email confirming what you have returned ( due to the importance of this information these emails cannot be turned off).
If you are trying to return an item that is too big for the self-returns machine then please take it to the library point during staffed hours and we can return the item for you.
If you find that the machine's are malfunctioning and the library point is closed then please use the manual chute to return your items. We will collect these the following day and remove them from your account.
Accessing The Moving Shelves
We were asked:
I can never remember which buttons do what with the moving shelves?
The moving shelves can be found at the back of the first, second and third floors and is home to the four week loan stock and Curriculum Resources. Instructions can be found on all floors attached to several moving units, however if you have trouble operating these then please contact a member of the library team who can talk you through the process.
The Libraries Online Resources
We were asked:
How do we access the online library?
Is there a link for the online library?
Is it straight forward to access journals from home? Do we need to join any journal programmes?
Would we be able to access recent e-journals?
How do we know if a journal article is available to us?
Is there anything you could say about keylib?
Do we have all books as e-books?
Are all books in the library available for online reading?
Do we use our smartcards to borrow/read e-books on LibrarySearch?
How long do you have access to an e-book once downloaded?
Is there a limit to how many e-books we can download?
When I borrowed an e-book before I had to wait. Is that the case with all e-books?
Are e-books that are embedded into our lectures classed as being loaned while we are reading them?
Are you able to make notes on a downloaded e-book?
Can you tell us about Onedrive?
To find what electronic resources such as e-books or journal articles we have available to use, take a look on LibrarySearch. Don't forget, to gain access to online resources you must click on log in at the top of the page first. You can also find the following options on the LibrarySearch homepage;
Plus additional support with online materials such as;
E-Books and Onedrive
Our e-book collection is always growing. We often purchase new items or items that appear on reading lists as an e-book or e-book and physical copy purchase to enable higher numbers of students to access the resource at anyone time. The majority of our e-books have multiple user access meaning you can get straight in and start reading immediately. A small quantity do have individual user access which can mean you will join a que and then be notified when it is your turn. There is also the option to download the e-book, usually for one to three days, before it removes itself from your drive. Once downloaded you can make notes and highlight text if given permission to do so.
OverDrive is one of our newer platforms and allows you to access both e-books and audio books. The collection is currently small but will grow overtime; these can be accessed via LibrarySearch or the CCCU OverDrive website.
Databases, Journals, Libkey and Browzine
We have a huge variety of databases available for you to use across a wide range of courses and subjects. These databases contain academic information and articles, images and videos to further develop your understanding and progress your work. You can also access a range of journal articles direct from LibrarySearch itself using the search bar provided.
Recent additions have included Browzine which gives you more of an opportunity to search via subject, amongst other things and the introduction of Libkey which allows you to identify articles which you can access by linking up with such areas as Wikipedia and PubMed. The following blogs are designed to give you a bit more information on both of these tools.
I hope you have found the above information useful; You can find a link to the first part below and the third part will be following this week so do keep an eye out.