We were recently privileged enough to receive some funds through the Government Connect Scheme to help our student's wellbeing through the Stressless Events. Read on to discover what new goodies we now have available for you to use.
So, how did we go about spending this money? Well, firstly we looked back through all our Stressless information and feedback and made note of all the items and ideas that students had provided us with in the past. We then broke the Stressless Event/Area down into areas and reviewed what was popular, what needed updating and where their were gaps in what was available. We then got shopping and the shopping list grew and grew and grew into what you see below!
Board Games, Card Games and Puzzle Games
Prior to Covid hitting we asked the student community what games they would like to see in the Stressless zone, if we were ever able to make some additional purchases. Well thanks to the Connect fund we have now been able to go back to our list of requests and purchase every suggestion. For the most part this has either included a range of retro games from the 80's or more modern card and board games. We then added to this collection a few extra resources that are great for friends and groups to play together for short or long periods.
Larger Games and Activities
In the past we have had a very small range larger/outdoor based games available in the zone including giant jenga and giant connect 4. During this time we also included several homemade items such as the bean bag toss. So we have now been able to buy some extra items and also replace those which were originally homemade with the real thing. These will be available in the Stressless zone, but will also be used in the Spring/Summer period as part of an outside activity alongside the sports team.
Puzzles
We have finally be able to get a few modern puzzles from popular brands such as Marvel, Disney, Harry Potter and Minions. Great for taking your mind off work, but you might want to give yourself a bit of extra time to complete these.
Arts and Crafts
We have considerably expanded on our arts and crafts for both the zone and to give us more opportunities at creating creative drop in sessions for you to enjoy.
Books
You can never have enough colouring or word puzzle books, so we had to purchase a wide range to expand on our collection. This also included books that could be included in the zone but also used during events such as paper craft ideas for example origami and paper flower resources.
Chill Out Resources
Firstly, we recently added a cactus and succulent tank to the chill out corner for you all to enjoy. We have now also added a range of pieces to the chill out corner shelf including games, brain puzzles, toys and an assortment of fidget toys to expand on our five minute box collection.
Relaxation Resources
We all know how you have enjoyed using our massage chair, so we definitely had to spend some money on expanding this collection for you So, the Stressless area now includes a wide range of massage equipment for you to use and enjoy.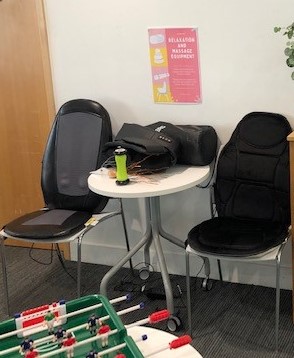 Donations and Book Stock
Since Christmas we have received a wide supply of donations to the Stressless event from many friends and colleagues at Christ Church University. The range has included games, puzzles and an assortment of arts & craft resources; We would like to take this opportunity to thank you all. Plus, The toy shop Whirligigs in Canterbury kindly donated a range of brain puzzles and toys, which we are extremely grateful for.
The library was also able to purchase a range of books supporting mental health and other conditions that may affect individuals during exam time; these can be found in the Stressless area.
Unboxing Video
So to find out specifically what we have now added to the Stressless Zone, check out our unboxing video.
Please do let us know what you think of the new equipment and resources using the feedback channels available. It would also be fantastic if you could send us a few photo's of you and your friends using and enjoying the new items.