Eight Christ Church blogs to follow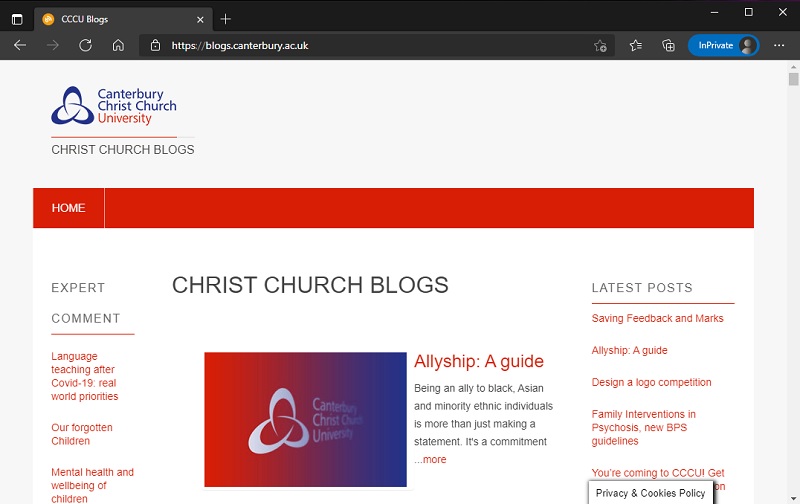 One of the ways I start my week is by going to Canterbury Christ Church University blogs and reading the updates. It is how I find out what is happening at Canterbury Christ Church University, and it is a nice way to ease into the week. In this post I am going to be recommending some of my favourite blogs (NB/ faculty and school blogs have been excluded from this as there are too many to mention).
1 Careers

– other than the Library, this is my most read blog. This year Susannah has written a series of blog posts called A-Z of Careers which has been useful and interesting to read. The series includes tips, hints, and links to resources. Even if you are not thinking about your career yet, these posts are full of advice to support your professional (and personal) development. You can find out about research internships, GradForce, free Microsoft qualifications, and the Careers and Enterprise app in addition to the plethora of events and training the Careers team regularly organise.
2 IT

– love it or hate it, you cannot avoid it. The IT team at Canterbury Christ Church University have a blog I feel lost without. Here they keep us updated with things you need to know, like how to find the student app store and security tips (how to keep your data safe, how to spot ransomware, and how strong is your password?).
3 Student News

– this is the most updated blog I follow, and rightly so. As a student I occasionally feel like I am in an information overload bubble. Having a blog I can go to and find out what is happening today is invaluable. I follow Student News so I can know as soon as possible when I can apply for bursaries and access my timetable. I also enjoy reading about other students' experiences, so the posts written by the student ambassadors are my favourite.
4 Staff Development

– although this is a blog aimed at staff, I always return for the wellbeing posts… wandering about and mindful positivity are two I reread when I am feeling burnt out. And, when distracted, I go to work hacks. The upbeat tone of this blog always cheers me up.
5 Expert Comment

– this blog is a series of opinion pieces by the academics at Canterbury Christ Church University. Often responses to issues in the news, Expert Comment is always a stimulating read.
6 Sustainability

– I enjoy the variety of voices in this blog, and I think that is reflected in the style. The Student Green Office give us recipes (yum!) and tips to live more sustainably, as well as share their thoughts on environmental issues.
7 Learning Skills Hub

– although the Learning Skills Hub does not publish regular news posts, it remains in my bookmarks. One of the reasons is because I always find useful information on there – the other is that I am often sending the link to people I study/work with. I am not overly confident in my study skills, so this hub is the first place I go when academic panic sets in.
8 Partners in Learning

– over the past few years the Partners in Learning blog has featured collaborative poetry between staff and students in the form of the Poetic Nursing Heart project. Updates are infrequent (once a month/quarter), but I enjoy reading them when they do appear.