Let us know at our Valentine's feedback event …
Drop in and take part
February sees the return of this ever-popular Valentine's Day event to the library, and we'd love as many people as possible to take part. You can do this easily by swinging by our table on the ground floor of Augustine House on Friday 10/2 and Monday 14/2 anytime between 10:00 and 16:00. You can't miss us; we'll be the friendly library staff festooned in love hearts and other loved-up paraphernalia. All we ask is that you write us a library-related line or two telling us what's on your mind.
Prize draw
Whilst there you can also help yourself to a sweet treat, and you'll have the chance to enter our prize draw to win a bear! Not to be missed, particularly if you're likely to need a gift for that special someone.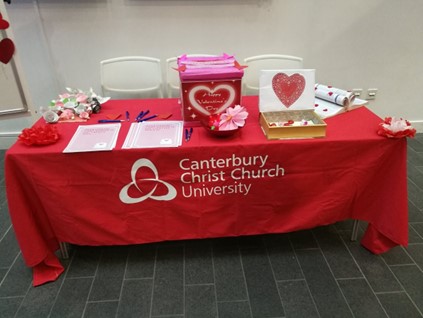 Message board
We also invite you to express your thoughts anonymously through the medium of our love heart message board, also located on the ground floor of Augustine House. Romance aside, we really do value your feedback, both positive and negative, and use it to continually improve the services and resources offered by the library.
Your feedback matters
At previous events you've generously given us a wealth of useful comments on things such as study spaces, Library search, computers, the café, and many more — so why not drop by and have your say this February whether you're feeling love for the library or just a bit let down? As always, the library team looks forward to seeing you.
Take a look at how your recent feedback not only helped to shape the library service but informed decision-making across the university:
https://www.canterbury.ac.uk/our-students/ug-current/student-voice/responding-to-your-feedback