In this blog post I talk about the productivity tools I use most often. As a student I have access to so many apps and software, and I still enjoy learning about new ones. I have listed my most favourite tools below – some are familiar, and others are more obscure. All are accessible to you.
OK, this is a weird start but bear with me. From your applications page you can see all your apps, access, and your account settings. Why would you be interested in this? Here you can find your security information, log-in history, change your password and install Office.
B is for Blog
I have been blogging for years, which I have previous blogged about in My Digital Diary. As a creative writing student my blog is my portfolio, and a space where I reflect on my learning. You may not have use for a blog, but I recommend reading the Christ Church blogs!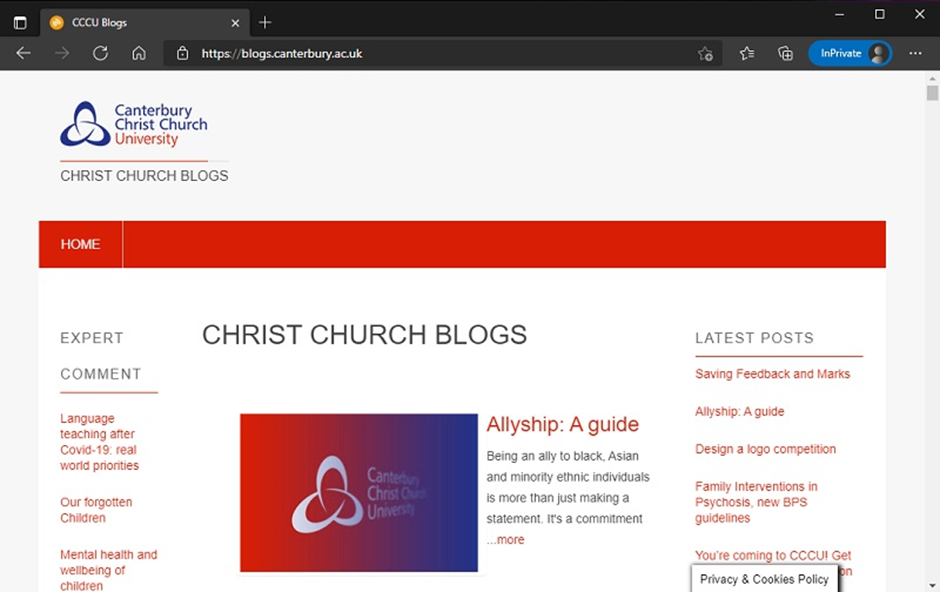 You have probably been using your calendar for years, right? But there is so much more you can do with it. By going to your calendar options you can share your calendar with others and set your work week times (I do this to show colleagues and classmates when I'm not in university!). You can also add a calendar, so if you have other calendars you use like your Blackboard calendar or your Research Space calendar – you can view them together.
Delve is similar in nature to your newsfeed, but easier to navigate (and nicer to look at!). Get started by updating your profile, then follow a few sites, documents, and people. Delve will start filling up with collaborative documents – you will be able to see when they are updated and by whom.
If you are working on a project, Delve is a must. When you go to your profile page, you will first see Popular Documents. These are the documents your lecturers and classmates are currently working on in the sites you are a member of. If you see a document you would like to bookmark, you can add it to your favourite board. You can also see all the documents you recently looked at (including your own).
E is for Email
Have you ever felt so overwhelmed by the amount of emails you receive? Fear not, there are ways to make them more manageable. From changing the layout to setting up a filtering rule, you can reduce the amount you spend looking at a list of unread items. You can even take part in the Outlook Specialist course – just follow the Careers blog, to see when the next one is happening.
F is for Following/Followers
Did you know you can follow your classmates and lecturers on Sharepoint? Just go to MyPeople, click follow, and enter their name. Or you can add them to your Outlook contacts page.
G is for Groups
If you go to the Outlook people page you will see a directory in the bottom of the left menu. Within that you can see all the groups you are able to join – some are public and some require the owner of the group to let you in. There are dozens of groups to choose from; Apprentice Network, Book Talk, Disabled Students Community, International Students Society, Life Writing, the Canterbury Teacher Project, and Practice Nurses to name a few.
H is for Help
As confident and enthusiastic as I feel in my work, sometimes I need help. The current student page signposts all the services I need. In the past few months I have booked a one-to-one with a learning developer via the Learning Skills Hub, requested support from the mental wellbeing team, accessed IT training when I struggled with a report, and rewrote my CV in the Careers and Enterprise Hub.
I is for Internship
Every year research internships are advertised on the Unitemps site. You can read all about them on the Research Development blog.
J is for Jubilee celebrations
This year is Canterbury Christ Church University's Diamond Jubilee. What better way to relax and recharge than joining the events? You can visit the Jubilee Garden, attend the Interdisciplinary Research Network conference, and take part in the numerous sporting events.
Although this is a resource for staff, it is a useful guide to some of the apps you might use less often such as Padlet and Pebblepad. The site also lists known issues and summarises new features which is helpful if you find yourself having trouble accessing some of your tools.
Apps have been mentioned throughout this blog post, but do you ever wonder exactly how many apps we have access to? Liquit is a catalogue of all of them!
M is for Membership to Student Union
All students are members of Christ Church Students' Union and staff are affiliate members. So, what does that mean? You can vote in elections, submit ideas/suggestions to union council, join societies and sports clubs, attend events, volunteer, connect with students, contact officers, keep up-to-date with you messages from the union, buy or sell on marketplace, comment on blogs and articles. But more importantly, you represent and are represented by the student union.
Alumnus Jake Forecast write about how he uses OneNote to stay productive: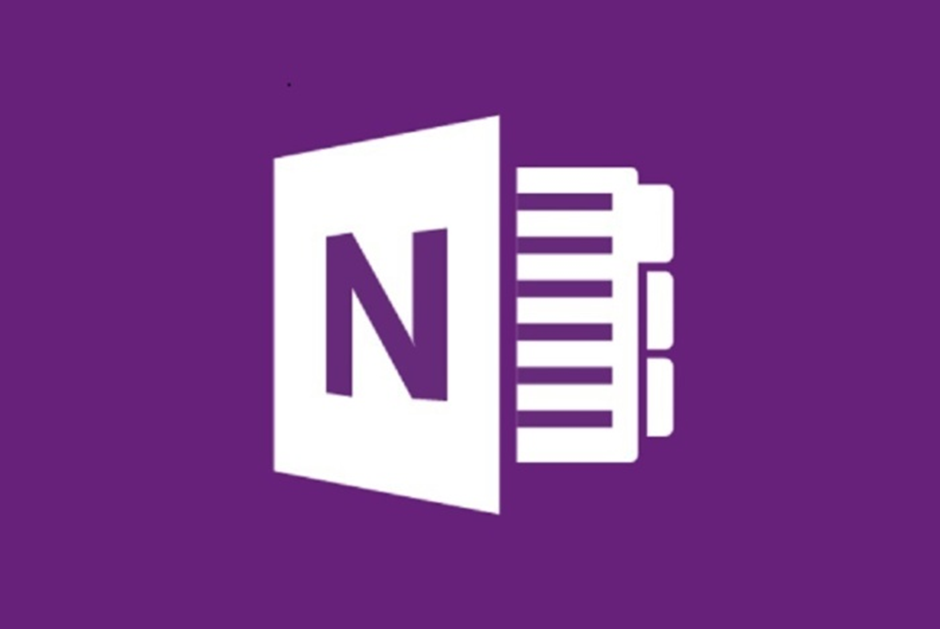 You probably look at your Office homepage every time you login, it shows your most recent documents and frequently used apps. However, it has another useful function and that is the search. The search is helpful if you are a member of lots of sites, as you have the ability to view all files and news across them all.
Our peer mentoring programme gives you an opportunity to be a mentor or mentee. You can find out more about the peer mentor role on the Christ Church Volunteering website.
Quick Links is just a place where I keep my bookmarks. I like using it, as opposed to a favourites bar on a browser, as I can embed it in my SharePoint pages.
I have a few reading lists but vlebooks.com is my most used one. I like the bookshelf feature which I used to store books to read in the future. I also occasionally use Overdrive when I have a bit of downtime because I like taking part in the Big Library Read discussions.
Stream is becoming my favourite app because my passion for vlogging has grown over the past couple of years. I have a channel and make videos when I want to share hints and tips I have discovered. Also, as much as I do not like recording myself, I find filming to be much quicker when I am trying to share information with classmates and colleagues. You can also find recordings of Teams meetings you have been in by looking on the Groups page – which I use to revise. Stream has halved the time I spend making videos because now I just use the screen recording feature.
To-do lists, and lists in general, really help with my productivity. There is something so satisfying about ticking off a task when it is complete… or assigning a task to someone else. My favourite thing about to-do lists is that I can add steps to the task, so if I am doing a project or assignment I can break it down into manageable pieces.
Despite already being at university, I found Unibuddy helpful when I was applying to study at postgraduate level. It was great talking to other students when I was feeling uncertain if I wanted to return to education, and it made me feel like part of the community before I had been on campus. I am applying to another postgraduate course next year, so I have appreciated linking up with people in my research interest area.
I spend a lot of time in the Virtual Learning Environment, so I downloaded Blackboard app to keep up with my announcements and check if any new content appeared.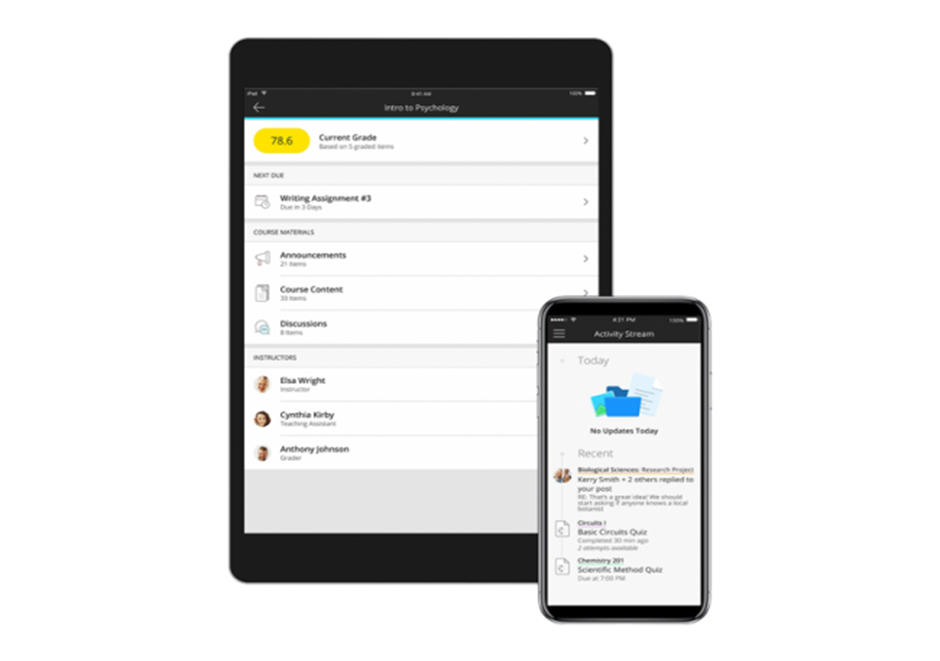 W is for Word
Most of us reading this have been using Word and Excel for as long as we can remember, however if you need help with formatting and formulae the IT team can put you in touch with their training team.
Y is for Yuja
My introduction to Yuja was earlier this year, it is another video platform but it appears to be linked to the modules you are in on Blackboard so many of my course training videos are available to view in there.
Z is for Zzzz
Thanks for reading.
---
This blog was written by Nina Vallard.