Library accounts are created for all CCCU users in LibrarySearch, where you can log into your account and access e-resources. Occasionally technical difficulties may cause a delay in the creation of library accounts or other technical outages may just prevent you from logging in. If you should find you are one of the users affected, you can still access e-resources via LibrarySearch without actually needing to sign in to LibrarySearch. Please read on to find out how.
Firstly you'll need to go to our LibrarySearch page, so do this by going to the link below:-
https://ulms.ent.sirsidynix.net.uk/client/en_GB/CCCU
Click on the resource links in LibrarySearch
You can access e-resources directly by clicking on the resource links in LibrarySearch.
For e-journals these are the Full Details or View Content buttons:
E-books can be accessed by clicking on 'Link to CCCU e-book'

Sign In at the CCCU login screen
If you are not already signed in to another CCCU service such as webmail or BlackBoard you will see the CCCU login screen.
Sign in with your usual username and password
This will start an OpenAthens session and you will be taken through to your chosen resource.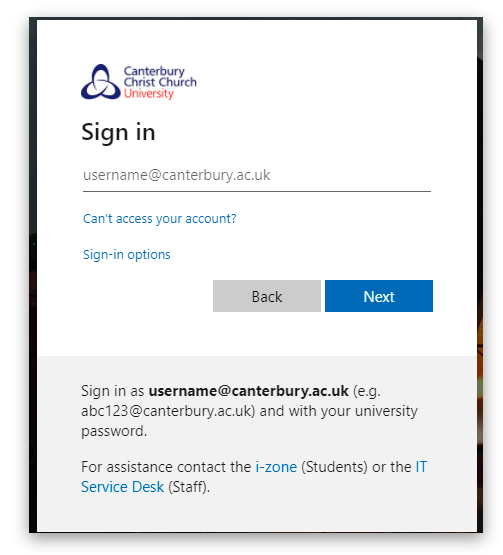 If you are still experiencing difficulties after following this guide, please contact the library.
Once your library account has been created, we would always advise that you log in to LibrarySearch to experience the full benefits of this resource.