CReaTE: part of #YourDigitalLibrary
Perhaps a lesser known part of #YourDigitalLibrary is CCCU's institutional repository, CReaTE (Canterbury Research and Theses Environment).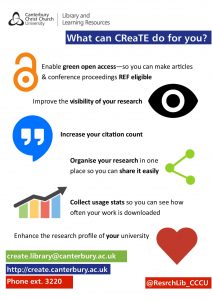 Earlier this year, we wrote about how CReaTE can help make your research to be eligible for the next REF. But what else can CReaTE do?
Improve the visibility of your research
Adding your work to CReaTE, even if you can't add the full text or actual research output itself (e.g. if it's a performance (although you could add a link to a video of this!)) means that people can easily find it when they search the internet. Research on CReaTE will usually rank higher in Google or Google Scholar searches due to CReaTE's compliance with international metadata standards. URLs within CReaTE are short and persistent, which makes it easy to cite your work and share online. CReaTE also makes it easy to share your research via social media with "share" buttons on the bottom of the web page enabling you or other researchers to share material on Facebook, Twitter, Google+ and many other services.
Increase your citation count
It makes sense that the more people can find and see/experience your work, the higher your citation count should be.
Organise your research
Having (at least the metadata about) all your research in one place means that other people can easily see what you've been doing, and also means that you can easily access your own work. No more lost papers! You can use the link to your CReaTE page (see mine here) to share your research, and you can also link to this page from your profile page on the CCCU website. Please contact IT Services for information about how to do this.
Collect usage stats
You can see the number of downloads per month your work as had at the bottom of each CReaTE item page, and you can also click through to see more statistics for your work: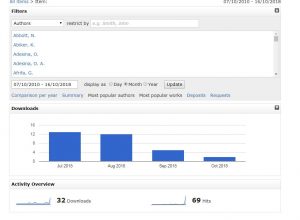 Enhance the profile of your university
Getting our research seen by others is a really important way we can enhance CCCU's profile and build on our reputation for great research. There is so much excellent research going on at CCCU, much of which people outside the university are not aware of. It would be great if we can get more and more of our research out into the world so that it can be used both in practical ways and as an inspiration to others. Using CReaTE is one, relatively easy, way that we can do this.
What if I haven't published any research?
You can still make use of CReaTE! It's now possible to search CReaTE via LibrarySearch. You may have already seen items in CReaTE appear in your search results when using LibrarySearch. Sometimes, you will be able to access articles directly via CReaTE – but only if they're open access and the author has included the full text of the article on the CReaTE record. Otherwise, you might see a link to the item – this might be a link to the journal article online (which you can then access if we subscribe to it), or it might be linking to something else, like a video or sound recording, depending on what the piece of research is.
As well as journal articles and other types of research output, we also keep doctoral and Masters by Research theses on CReaTE. You can search for these via LibrarySearch or by using the advanced search function on CReaTE. If you would like to know more about how to find an electronic thesis, please contact us. You can find out more about searching CReaTE on the CReaTE homepage.
If you have any questions about how to use CReaTE please contact Claire Choong, Learning & Research Librarian (Research Lead)