What We've Been Reading in American Studies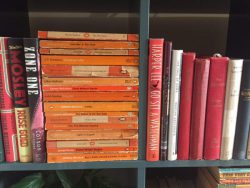 Despite anything you may have heard to the contrary, academics remain very busy people during the summer months (in fact, you might have read a great article by Mary Beard to that effect a little while ago).  But it is the case that we can fit in a little bit more time for the things we enjoy while the sun is out. As a way to introduce the team to the blog, and the blog readers to the team, I thought it might be fun to go through some of the things we've found interesting over the last few months. You might find you've been enjoying the same sorts of things lately or you might find some recommendations for things you might enjoy.
Without further ado, I'll turn you over to the team for a quick rundown on some of our cultural and intellectual highlights over the last few months.
Mark Ledwidge – Senior Lecturer in American Politics
What I've Read: Donald Trump: The Making of a Worldview by Charlie Laderman and Brendan Simms. The book provides poignant insights into the worldview and character of the current US president. Ultimately the book places meat on the bones regarding the approach of America's new divisive but important president.
What I have done: I wrote a short essay on Marcus Garvey which was published in the International History and Politics (IHAP) Newsletter entitled Marcus Garvey: Racial Redemption and the Awakening of the African Diaspora.
What I want to do: Begin writing and researching my next big research project that is a new monograph that addresses both contemporary and historical race relations in the United States.
Ben Lafferty – Senior Lecturer in American History
What I've Watched: Bojack Horseman. On its surface, this animation about the misadventures of a ribald anthropomorphic horse and his mélange of human and animal acquaintances doesn't seem like it would be one of the most cutting pieces of satire regarding postmodern America; which is just as well, as it quickly becomes a heart-breaking essay on depression, addiction and alienation in the early 21st century.  Like many "binge" shows, it gains momentum after the first few episodes, and really hits its stride in Season 2.  There are too many good episodes to list, but Season 2, Episode 7, "Hank After Dark", is especially devastating.  In case that all sounds rather too downbeat, Bojack's friend-cum-unwitting rival, Mr Peanutbutter, is one of the most joyfully written characters in the history of television.  Come for the animals as people jokes, stay for the ennui.
Gavan Lennon – Lecturer in American Literature and Culture
What I've Read: I am Not Sydney Poitier by Percival Everett is very funny and slightly ridiculous. If you're taking my taking my final year class "Writing the Colour Line" this semester, you'll get the chance to read Everett's slightly more famous novel Erasure, but the story of the unfortunately named Not Sydney is more likely to start you laughing.
What I've Listened To: "About South" is a podcast by southern studies scholars that presents accessible, interesting, and always fun snapshots on the culture and history of the US South and I recommend it highly. The topics are delightfully diverse, and feature everything from William Faulkner's favourite ghost stories to The Golden Girls.
What I Want to Read:  Sing, Unburied, Sing by Jesmyn Ward. I am more than usually jealous of my friends in the US right now, because they can already read the new novel by (probably) my favourite contemporary writer. Meanwhile, I have to wait until November.
Althea Legal-Miller – Lecturer in American History and Culture
What I've Read: Kindred, the bestselling novel by African American author Octavia E. Butler is a seminal work in science fiction.  Now for those of you who are thinking, nah, I don't do science fiction, just wait a minute. The opening line of this novel is, "I lost an arm on my last trip home. My left arm." OMG!  While the time travel trope has the potential to offer escapism and fantasy, Butler turns this completely on its head, and actually forces the reader to confront weighty issues such as spirituality, trauma, genocide and power.
What I Watched: The Americans seasons 1-5 (#BingeWatched).  It's a show about espionage in the 1980s, and for me, it's one of the most multilayered dramas on TV (The Leftovers was another such gem). The Americans not only has all the classic spy stuff – everything from elaborate seductions to assassinations – it's also a family drama, and the merging of these two contrasting worlds is simply fascinating.