The inspiring women of Canterbury and the Cathedral: Queens, courtiers, nurses and suffragettes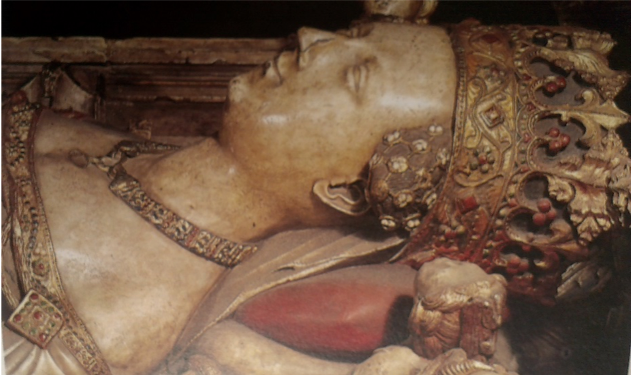 Canterbury Cathedral has a very rich history, but who comes first to your mind when you think of the Cathedral? Becket? Henry II? The Black Prince? These are all important figures in the cathedral's history, whom we certainly should not forget, but they are all men. What about all the women who passed through its doors, donated money, participated in nationally important events within its walls and who are represented in effigies, stained glass and documents in the archives?
Victoria Mitchell, a History undergraduate student, tells us more about these women, and about a Cathedral event to commemorate International Women's Day on 8 March.
There is an array of incredible women associated with the cathedral, all of whom made significant contributions to their contemporary society, and who should absolutely be part of the cathedral's story as well. That is why the cathedral is celebrating International Women's Day on 8th March by highlighting the stories and lives of these women through a trail around the cathedral of the women visually represented and an evening talk in the archives with a chance to look at documents relating to the women of the cathedral.
Perhaps the most famous woman buried in the cathedral is Joan of Navarre, wife of Henry IV, beside whom she is buried. After her first marriage to the Duke of Brittany, Joan married Henry as quite an experienced politician, with a talent for mediation and reconciliation. In 1407, she arranged a peace between England and Brittany and persuaded Henry to release Breton prisoners. Joan was also involved in politics during the reign of her stepson Henry V, perhaps acting as regent for him while he was away fighting the French, and accompanied Henry during his triumphal entry into London after the Battle of Agincourt.
There are two lesser known women buried in the crypt of the cathedral, but whose stories are just as intriguing. Lady Joan Mohun (d. 1404) and Lady Elizabeth Trivet (d. 1433), were prominent at the courts of Richard II and Henry IV, therefore, they would certainly have known both each other and Joan of Navarre. As Henry IV usurped the throne from Richard II in 1399, the ability of these women to maintain their positions at court is impressive. Both Joan and Elizabeth were made Ladies of the Order of the Garter, the highest order of chivalry in the country, in 1384 and 1390 respectively.
Ladies of the garter did not hold the same status as men in the order, however, it is thought that as well as being given robes, they also took oaths and promised half of their dowries to pay the ransoms of their male relatives. This honour was usually given to the king's closest female relatives, but also some women which were related to the royal household through service. Joan's husband had been in the household of the Black Prince and had served with Edward III during the wars with the French and Elizabeth was close to the royal household through her prominent position at court.
These women were certainly not just decorative, nor did they just produce heirs; they were fully engaged and immersed in the politics of court. Additionally, they are buried in the Cathedral because they donated large sums of money, Joan donated funds particularly for the re-building of the nave. Without the donations from these women and others such as Lady Margaret Holland and Frances Stuart, duchess of Richmond and Lennox, it is quite probable the cathedral would look very different today.
In the stained glass in the Chapter House, Queen Bertha, who was a Christian Frankish princess before she married the pagan King Æthelbert of Kent, can be seen welcoming Augustine, sent by the pope to convert the country to Christianity. Queen Bertha supported Augustine's mission and it is known that the pope asked her to use her influence with her husband to convert him to Christianity.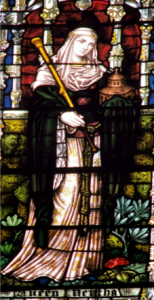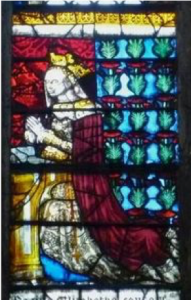 Another key piece of stained glass is in the North transept which shows Elizabeth Woodville, Queen to Edward IV, with their two sons and five daughters. This was a family portrait designed as a piece of propaganda, which displays Edward's strong familial dynasty, to secure his legitimacy on the throne, as he had taken it in battle from Henry VI. Elizabeth is key in this image, but also was key during Edward's reign, fiercely protecting her family's interests and actively writing to the nobles of the realm persuading them to comply with the king's wishes and threatening them if they did not.
However, aside from queens and courtiers, there are many ordinary women who have made extraordinary contributions to their society and to the cathedral. For example, Margaret Babington was a driving force of the Friends of Canterbury Cathedral, a group who have, to date, donated around £14 million to the conservation of the building and cathedral projects. Ordinary women in the area were also nurses and staff for the Dane John Volunteer Aid Detachment Hospital in Canterbury during the First World War, while the Canterbury Women's Citizens Association Committee did incredible work to improve housing, education, and promoted rights for women.  Canterbury also fostered many Suffrage heroines working for equality. It is important to ensure that these amazing women are also remembered for their hard work and commitment to their causes and society.
Working on this project to highlight the many extraordinary women of the cathedral, and being able to share the research, has been incredibly exciting. Canterbury and the cathedral have such rich histories, and we should explore all of it. By learning about these women, we can reflect on ourselves, and be inspired by their stories to make our own contribution to society.
Cathedral Trail and interactive inspirational women notice board – normal cathedral opening times
'Celebrating the inspirational women of Canterbury and the Cathedral' talk by Victoria Mitchell and Alex Davis (University of Kent) – 6:30pm, Cathedral Archives
You can book a place for the talk on 8 March here: https://iwd2018canterburycathedral.eventbrite.co.uk