The Eng Lit team report back on their summer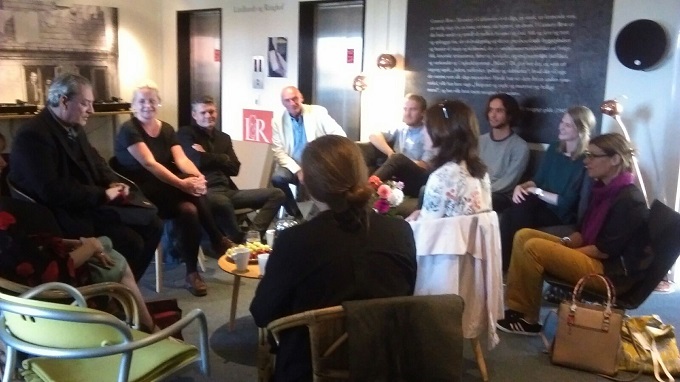 It's been a busy summer for me and my fellow colleagues in English Literature. Collectively, we've dealt with tight deadlines for manuscript submissions, invitations to talk at international conferences, climbing booksellers' charts (really!), lots of reading and writing, and – we're not going to lie – a bit of R&R too. In strict alphabetical order, I have collated here what some of us have done this summer.
Mike Bintley has found the perfect way to mix duty and leisure. He has been working on two articles: one on 'Romans, Britons, and the construction of Anglo-Saxon Identity', and another on the properties of stone (walking and talking!) in the Old English Andreas. That's not all: "I travelled to Venice for the contemporary art festival, Trieste to visit Ancient and Medieval sites, and Ljubljana for more of the same, plus fantastic art galleries and museums. I swam in the sea, discovered burek, rediscovered dolmas and courgette flowers, drank sours and saisons, and played rummy. I read John Steinbeck, Muriel Spark, and the first two parts of Alan Moore's 'Providence', and caught up with Fargo, Mad Men, and Orange is the New Black. I slept through a lot of films, and have still not seen Dunkirk, Get Out, or Wonder Woman."
Stefania Ciocia, or rather I (the poster of this blog) have been sharing some of my work in progress at two international events. In July, I gave a paper on the Dominican-American writer Julia Alvarez at the Society for the Study of American Women Writers. It was my dream conference: brilliant plenaries and panels (the screening of 'Regarding Susan Sontag' and Q&A session with director Nancy Kates were a particular highlight), lots of wonderfully constructive discussions, and fabulous French food. In August, I gave a keynote lecture at the University of Copenhagen, opening the 'Paul Auster and Literature in the 21st Century' conference. My talk focused on Auster's latest novel, the hugely ambitious 4 3 2 1 – at nearly 900 pages long, regretfully my copy of the novel had to stay in Canterbury. It was a great privilege to meet Auster himself after the conference; my fellow speakers and I were all glad to have been spared our academic blushes. Imagine having to talk about his work in his presence!
Susan Civale spent July on the conference circuit, giving papers in Manchester, York, and Canterbury: "I also spoke at Chawton House Library https://chawtonhouse.org/, the Elizabethan manor in Hampshire that once belonged to Jane Austen's brother, a fitting place for a conference on the reputation and legacy of Austen and her contemporaries. My presentation at this conference came out of my research on Austentatious, the hilarious comedy improv group that stages the 600 'lost' novels of Austen, including such titles as "Invasion of the Bonnet Snatchers" and "Breaking Cad: Meth Comes to Pemberley". In addition to the work-related travels, I also made it back to the States to visit my family, and of course, to spend a little time at the Jersey Shore. My beach reading (a guilty pleasure!) provided a much enjoyed escape, and when I got back to the UK, I finished off the introduction to my book. Now I've got a full manuscript, just in time for me to switch into teaching mode with the start of the new semester."
Peter Merchant has been tasting chart success and enjoying the noblest prospect an Englishman ever sees. "In July, a thriller entitled The Statement of Stella Maberly (F. Anstey's book, not mine, but in a tale of preternatural personation that detail scarcely matters) took me briefly to the top of the US Amazon horror chart; and work, just as enjoyably, saw me take the high road to Edinburgh. The city centre might still be towered over by the Wizard of the North, but I was there for Robert Louis Stevenson and the wizard for whom everybody else had come, to judge by the number of noses pressed against the window of The Elephant House, was Harry Potter."
Andrew Palmer has had cause for celebration: "I've been working on a book about First Word War poetry with my friend Sally Minogue for the past few years and we submitted the manuscript last spring. Cambridge University Press formally agreed to publish it on July 7 – heralding an intense six weeks as we worked to address the points made by their readers' reports. We also had to prepare marketing materials, secure copyright permission for various poems and images, propose a cover design, create high-res illustrations and, finally, write the Acknowledgements page (I hope we didn't forget anyone!) We finally submitted the revised book on Tuesday, August 22 at 6pm. Then we opened a bottle of champagne."
At the end of Freshers' Week, these have all started to feel like distant memories. The pay-off, though, is the excitement of meeting our new and returning students, and getting together again as a team to see the new academic year off to a great start. Welcome (back) to Canterbury everybody!