Study trip to Hindu temple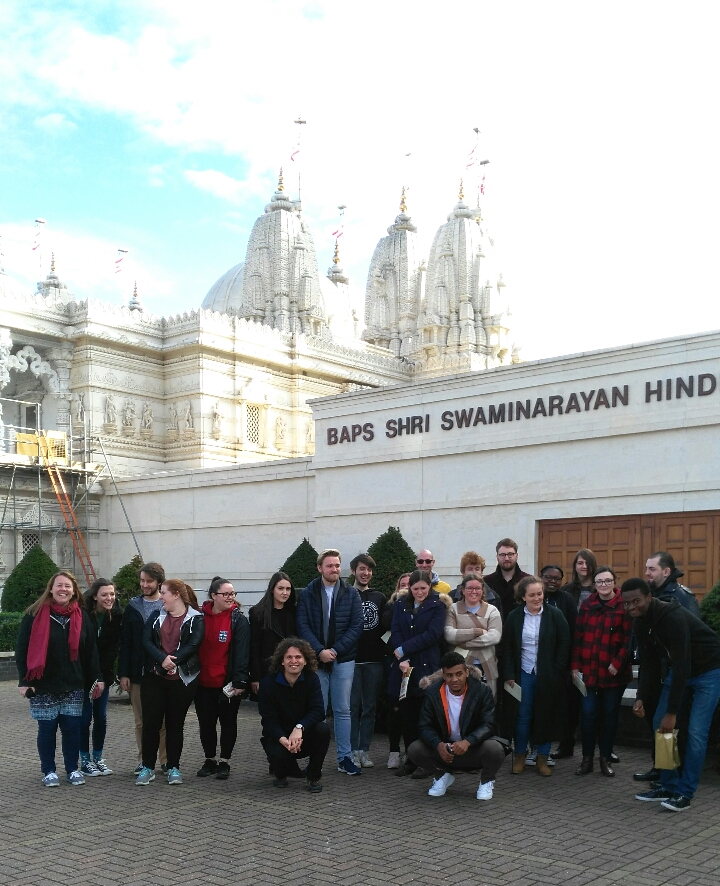 On Monday, 13th November, I took a group of undergraduate students to the Swaminarayan Hindu temple (mandir) in Neasden, North London. We braved the London traffic and it was well worth the effort! The Mandir is an extraordinary, beautiful building and one of the largest Hindu temples outside India. We were amazed by the ornate carvings and the striking images of the various Hindu deities that filled the central hall of worship. We had the good fortune to witness the arati ceremony. This is an act of worship involving a fire offering and devotional songs which takes place in front of the image of the god, Swaminaryan. We also visited the Hinduism exhibition at the Temple and took part in an informative Q&A session with one of our hosts. Before we returned by coach to Canterbury, we visited the Temple's Indian food shop and deli where we sampled some delicious Indian sweet and savoury snacks!
Study trips are an important element of our approach to learning in the Theology & Religion, Philosophy and Ethics programmes at Canterbury Christ Church University. They give our students a personal experience of the religions that they have been reading about and discussing in the classroom. They meet people from various faith communities and witness these religions as they are being practised in contemporary Britain. Our next trip, later in the semester, will be to a Thai Buddhist temple in London and a Nichiren Buddhist group near Maidenhead!