Remembering the Romantics: What We Learned from Our 'Romantic Novels 1817' Seminar Series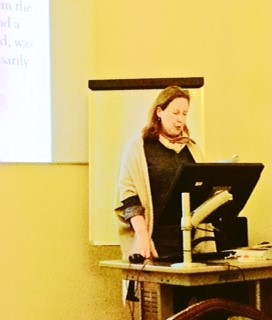 In our Romantic Novels 1817 seminar series, held in 2017, we chose six novels published in 1817, and invited an expert in the field to lead a discussion on each text. Co-funded by Romantic Bicentennials, the University of Greenwich, and Canterbury Christ Church University, Romantic Novels 1817 used the bicentenary as the perfect excuse to rethink our understanding of the Romantic Novel.
By including well known writers such as Jane Austen and Walter Scott alongside their prolific and popular but now 'forgotten' counterparts such as Jane Porter and Ann Hatton, we asked questions about why some books continue to be studied 200 years after their initial publication, and others seem to have all but disappeared. As we repositioned classic novels of 1817 in the context of the varied literary marketplace in which they were originally printed, we gained a newfound perspective on how these novels differed from—but also resembled—their contemporary literary competitors.
We read 6 out of a total of 55 novels published in 1817. The six titles we included were:
• Jane Austen, Northanger Abbey
• Thomas Love Peacock, Melincourt
• William Godwin, Mandeville
• Jane Porter, The Pastor's Fire-Side
• Ann Hatton, Gonzalo de Baldivia
• Walter Scott, Rob Roy
We aimed for a representative sample of what was on offer in this year, covering novelists still celebrated now as well as those bestsellers of the day who have since been forgotten, and including titles that span genres such as historical romance, domestic fiction, gothic, didactic literature, and the national tale. We found that we were faced with six very different stylists, which made for an array of reading experiences. Yet we could also see how all the texts connected thematically, and how they responded to the political, economic, and cultural landscape of 1817.
In the wake of Napoleon's defeat on the continent, 1817 saw a postwar climate in Britain that was complicated by the exceptionally poor harvest of 1816, anxieties about internal unrest, and government suspension of Habeus Corpus. Byron's personal scandal had forced him to leave England forever, and Edmund Kean had become an acting sensation. It was towards the end of a decade in which the triple decker novel was on the rise, women were producing more than half of the total published fiction, and the most prolific publishing house was William Lane's much-maligned Minerva Press.
Here's what we learned:
• Editions matter. Some texts were difficult for us to access. Peacock's Melincourt, for example, went out of print between the 1850s and the 1920s, and is not readily available in Britain even now (though Freya Johnston 's forthcoming Cambridge edition will rectify this). But a shock moment came in the session on Jane Porter's Pastor's Fire-Side when we realised that between the 1817 and 1832 editions of the novel, she changed the ending! In the later version she killed off the Byronic hero, whose moral ambivalence had plagued her for decades after the novel's original publication – she even wrote about her concerns in a letter to a friend.
• The revolutionary 1790s live on. Austen's Northanger Abbey was published in December 1817 (displaying an 1818 title page), but was written in the 1790s. And it's a clear product of that revolutionary decade, concerned as it is with 'Englishness' in opposition to European tyranny. Interestingly, though, Gillian Dow placed Northanger Abbey in a continental tradition of gothic fiction, and showed Madame de Genlis's Adelaide and Theodore (1782) as a major—and widely overlooked—influence. Debates of the 1790s, about human potential, political systems, individual rights, and consumer practices, also cropped up elsewhere: in comic form in Peacock's Melincourt and in tragic form in Godwin's Mandeville.
• Austen isn't the only feminist of the period. The strongest female character we encountered across the six novels was Walter Scott's Diana Vernon, who does everything the men in Rob Roy can do, but better. She compared interestingly with Austen's women, who are written with a similar degree of psychological realism but lack the scope for adventure that the setting of the Jacobite rebellion of 1715 affords Scott. And even though Peacock doesn't develop character in the manner of Scott or Austen, Melincourt's heroine Anthelia articulates feminist ideas indebted to Mary Wollstonecraft.
• Romantics used their novels as forms of protest. Embedded in Ann Hatton's Minerva Press potboiler Gonzalo de Baldivia, for instance, is a searing abolitionist critique. The narrative takes us from the capture of slaves in West Africa, via the brutal 'middle passage', to the slave-worked silver mines of Peru. It culminates in a spectacular insurrection (inspired by the 1804 slave revolt in Haiti) in which the melodramatic and political strands of the novel collide. Meanwhile Peacock's Melincourt ends with an "anti-saccharine fete", effectively a sugar boycott used to protest against slavery and its consumer products.
• Austen is the odd one out. In the 21st century, Austen rules. It's easy to forget that in 1817, this was not the case. The overt politics, international settings, and blurring of history and fiction that run through so many of these novels are absent in Austen's fiction. Nor does the didacticism of female writers like Hatton and Porter feature in Austen's plots. She rejects the extraordinary incident typical of fiction by Peacock, Scott, and Godwin, in favour of close attention to ordinary domestic life. And it's worth bearing in mind that Austen may be more to our taste now primarily because our taste has been formed by decades of reading Austen. Scott, on the other hand, far and away the most popular and widely read novelist of the nineteenth century, has plummeted in reputation—so much so that we were surprised to discover how readable and richly rewarding his writing is.
With generous support from BARS (British Association for Romantic Studies), the University of Greenwich, Canterbury Christ Church University, and Romantic Bicentennials, we are continuing our interrogation of the Romantic novel in 2018 with 'Romantic Novels 1818'.
This year's programme began in January with James Grande (King's College London) leading us through a discussion of Mary Shelley's Frankenstein in the context of its original 1818 publication date.  You can read a synopsis of the Frankenstein seminar written by Merrilees Roberts here.
Our programme continues on 22 March with a session on Irish writer Sydney Owenson's Florence Macarthy which will be lead by Sonja Lawrenson (Manchester Metropolitan University).  We also have a limited number of BARS PG/ECR Bursaries available to assist scholars in traveling to our sessions. Details of the BARS Bursaries can be found on the BARS Blog.
If you have any questions, or would like to be put on our mailing list, please email the organisers, Susan Civale (CCCU) and Claire Sheridan (Greenwich) at reading1817@gmail.com. You can also find us on Twitter @reading1817.
Written by Susan Civale and Claire Sheridan