A Celebration of Jane Austen – SaveAs Writers Awards Evening 28 October 2017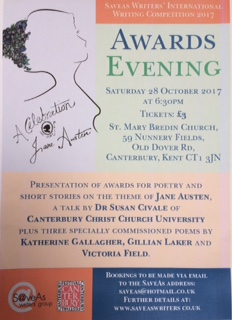 Canterbury's Liveliest Writing Group will have its Awards Evening for this year's International Writing Competition – on the theme of Jane Austen – on Saturday 28 October, at 6:30pm, in St. Mary Bredin Church, 59 Nunnery Fields, Canterbury.
To mark the bicentenary of Jane Austen's death, the SaveAs Writer's International Writing Competition 2017 took the title 'Love & Friendship'. Poems and short stories were invited on any aspect of Austen's life or work.
The Awards Evening will include prizes for poetry and prose submissions, a talk by Dr Susan Civale (Canterbury Christ Church University) on Jane Austen's significance and legacy, and three specially commissioned poems by Katherine Gallagher, Gillian Laker, and Victoria Field.
Tickets are £3 and bookings can be made vie email to: saveas@hotmail.co.uk. Writing workshops will also be on offer throughout the day. For further details, see: www.saveaswriters.co.uk.