The Mw 7.8 Earthquake, Central Nepal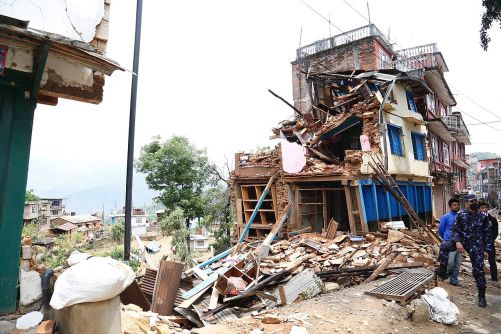 At lunchtime on Saturday 25th April, a 7.8 magnitude earthquake struck 50 km west of the Nepalese capital, Kathmandu, devastating large parts of the country. The death toll is extremely high, with over 6000 deaths reported to date and a high possibility that this number will rise as many isolated villages have not yet been reached by emergency supplies or personnel. Up to 1.4 million people have been affected.
The geology of this region is unusual as Roland Pease, science writer at the BBC highlighted on Radio 4's Inside Science programme. 'What's been happening for the 40 million years now is that India has been crashing into Asia, and the seam where it is joining is the Himalaya. Nepal, Tibet and Afghanistan are overriding the Indian subcontinent, which is going down beneath it' (30.4.15). This squeezing is continual at a rate of some 2 cm per year but the movement is spasmodic so that every two decades or so it will get a sudden movement where part of the 'seam' ruptures and creates the type of earthquake seen on 25th April 2015.
The epicentre was right in the middle of the country and seismic networks positioned around the world recorded up to a very powerful, very shallow earthquake (at 10-15 km depth). Shaking was recorded as 'strong' in Kathmandu and 2 to 4 times stronger at the epicentre. In an earthquake of this type and magnitude, the epicentre is where it starts. As the Indian plate descends beneath Tibet, the size of the slabs of rock involved is 12 kilometres thick.
Roger Bilham, a seismologist at the University of Colorado has been studying tectonic activity in this region for the last two decades. Talking to Inside Science's Roland Pease he said that "the rupture extended 40 km north into the southern edge of Tibet and 40-60kms south into Nepal. It also propagated 120 km along strike. This means that the earthquake started many miles west of Kathmandu and propagated past Kathmandu… Everyone in Nepal was within about 10-15 km of the earthquake" (30.4.15)
Current death toll reports are 6,204 people and 13,932 injured but these figures are difficult to calculate and are widely expected to rise. The USGS PAGER alert system allows the rapid estimation of fatalities by combining information from accurate shake maps with geographical data on population, settlement and housing quality. The USGS says to date that there is a 33% chance there are going to be more than 10,000 deaths and a 19% chance that fatalities could be more than 100,000. This makes this disaster comparable to similar earthquake disasters in Kashmir (2005) and Sichuan (2008).
Damage and destruction can frequently differ widely across short distances. In a Channel Four News report, Jonathan Miller and photo-journalist Raul Gallego Abellan witnessed that eighty of the 100 dwellings in the remote village of Bhimtar had been flattened, whilst across the small valley, another village remained untouched. To understand where damage had occurred and where people are in need of aid and relief not just in Kathmandu and in the urban centres, satellite images have previously been used to good purpose in previous earthquakes (most recently in Haiti, 2010). However as Alex Densmore of Earthquakes without Frontiers points out on Inside Science, it has been cloudy and raining in Nepal and so very little of the country is currently visible on satellite images.
Earthquakes are among the most difficult hazards to predict. Nepal has a history of earthquakes so people knew of the danger; the last major earthquake (1934) flattened Kathmandu, killing thousands and destroying 20% of the city's buildings. While there has been some progress towards disaster preparedness and awareness, the lack of political agreement over a new constitution (following the end of a decade-long civil war in 2006 and the overthrow of the monarchy in 2008) was identified by IHS Senior Asian analyst Alison Evans on the BBC's The World Tonight (28.4.15) as holding up legislation to invest in badly needed sectors including energy and infrastructure. 'Remoteness' writes Jonathan Miller, Channel Four News' Foreign Affairs Correspondent 'is a relative concept in Nepal, one of the most mountainous areas – and one of the poorest too' (304.15) Five days after the earthquake, the village of Bhimtar had yet to receive any assistance from government or international relief agencies. It lies just 25 miles due west of the capital.
Dr Julia Maxted convenes a module on Regions of Risk: Human and Environmental Security for the BSc Geography programme at Canterbury Christ Church University.