We hear from the three current students who got their hands dirty as beginner archaeologists on their 40-hour work placement as part of the Applied Humanities: Employability in Practice Module. The module aims to introduce Humanities students to a range of work-related skills such as communication, teamwork, problem-solving, decision-making, initiative, and creativity, thus improving their employability. 
The students took part in a public dig at the Maison Dieu in Dover.
'The Maison Dieu has been at the heart of community life in Dover for over 800 years. It began as a medieval hospital, providing accommodation for poor pilgrims on their way to the shrine of St Thomas Becket at Canterbury. It later became a victualling yard, supplying ship's biscuit and beer to the Royal Navy, before becoming Dover's Town Hall in the 1830s. In Victorian times, the building was extended to include a courtroom, prison cells, council chamber, Mayor's Parlour and the impressive Connaught Hall'.

www.maisondieudover.org.uk
Digging Myself into A Hole: My First Hand As A Beginner Archaeologist, by Leo Dix, second year Medieval and Early Modern Studies student
As a second-year undergraduate studying various aspects of archaeology throughout my Medieval and Early Modern Studies degree, I was genuinely looking forward to participating in the Maison Dieu public dig. There is a world of difference between physically involving oneself in a dig and analysing an excavation report for an assignment, or looking at humble photos of unveiled finds which eventually find their way into museums. It is only when you don the kit, pick up your tools, get your hands dirty, and work shoulder to shoulder with your team that you get a true sense of archaeology's ability to answer many questions that academic historians have to wrestle with, namely in the realm of material culture and social history. Never could I have foreseen just how much preparation, expertise, and energy was needed in order to see it through. Moreover, the tangible sense of camaraderie that is fostered throughout the endeavour is a great experience, and only goes to highlight the importance of collective effort in realising the goal. I quickly found it to be a highly enriching, informative, and unforgettable experience.
I had never directly participated in any archaeological fieldwork before. Due to Covid, my fellow students and I had been unable to experience taster sessions throughout the archaeology modules during our first academic year. Still, when this chance presented itself, it did not disappoint. I vividly recall the introductory presentation by Keith Parfitt whereby he brilliantly outlined what the dig involved; from the types of equipment used to how the excavation would be structured. It was all new to me, but I was determined to learn more and get stuck in.
The dig took part over a four-day period, and I was involved in the first two. Luckily by this point the weather was well and truly on our side, otherwise things might have been quite different! Initially I was tasked with promoting the event and reaching out to the wider public by distributing relevant literature and engaging with them face to face. I drew from my long years of retail and customer service when doing this and my message was clear: this was a unique opportunity to get involved in this project – learning and having fun through every step of the way. By and large, the public – especially families with children – were very interested and receptive to the project; the people of Dover were clearly not 'historied-out', so to speak!
Then it was time for me and my other student cohorts to take part in the dig ourselves. With helmets fastened to our heads and wielding our spades and shovels with our gloved hands, we got going. Keith and his lovely team, plus the other more experienced volunteers, were both professional and entertaining throughout. As mentioned, I was initially completely unaware of just how much something like this entailed. If you fall into the trap of assuming that archaeology is simply a matter of picking up a shovel and digging randomly in some vein hope of finding something, you're in for a shock. Keith, being a professional archaeologist, had a clear structure in mind: we dig carefully and meticulously to create layers of excavation within the pit, each layer corresponding to a certain aspect of the site's history. Anything of interest that we found would, in theory, reflect the different eras of history connected to the Maison Dieu. Moreover, he taught us the specialist digging techniques involved, chiefly how to effectively wield the spades and shovels; the former used for deep digging and the latter for shovelling excess soil into certain spaces ready for filling up the pit upon the dig's completion. Finally, teamwork, communication and co-ordination play integral roles too – you need different participants fulfilling different tasks, be that the digging, ensuring that the excess soil is safely removed, or wheelbarrowing the material to certain areas around the site. You can't have a situation where all your diggers are in the pit and taking up too much space. Also, if you found anything of interest, it was vital that you made it known immediately. I'll never forget being quite pleased with myself at finding what I thought was a piece of medieval glass, only for Keith to take a cursory glance and dismiss it as a bottle cap!
Some discoveries from the dig: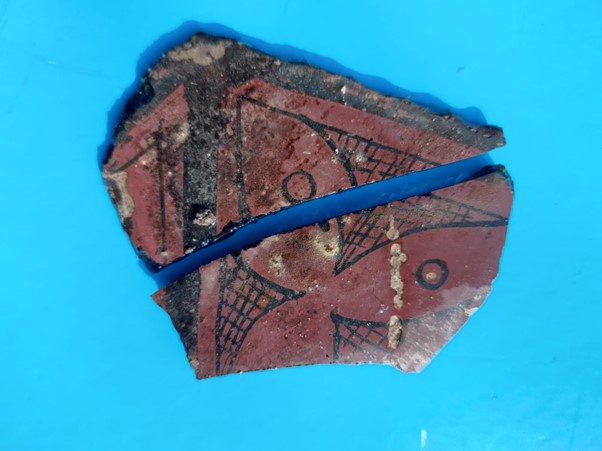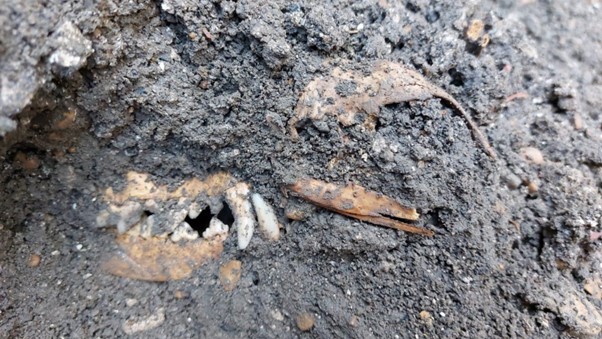 My Experience as a Beginner Archaeologist at the Maison Dieu, by Deanna-Leigh Stuart, second year student History student
History and archaeology have always fascinated me. Being a second year History student at Canterbury Christ Church University, I have had the opportunity of studying various parts of history and have been able to take part in some archaeology classes too. So, when I got my placement offer at the Maison Dieu and was tasked with being a part of their History Diggers project, I was excited. Now I was able to be a part of uncovering parts of Dover's history and sharing this with the public.
Despite going into the dig as a beginner, I was enthusiastic to learn how to best get the job done. We were briefed on what we would be doing and helped throughout the dig by the supervisors which helped me to understand more of what went into an archaeological dig. There was a lot of learning on the job, learning which tools were the best for certain jobs and what to do with what we found, but I found it easy and quick to pick up the techniques taught to us. I was also able to be a part of the cleaning process of the items that we found. It was fascinating getting a closer look and discovering more details of our finds once they were cleaned and could be analysed.
The dig consisted of us performing multiple tasks with the goal of uncovering what this patch of land used to be used for before the room that stood there was removed. Each day we dug further down until we reached our goal and found the threshold of the door that is now bricked in. With each layer uncovered, came a range of discoveries. We had many weird and wonderful finds during the dig, ranging from a Minion toy found on our first day, to many pieces of pottery and animal bones throughout the dig, to pieces of medieval glass found on our last day. No matter what we found, every find fascinated me, and I was surprised just how much we found.
Throughout the dig, I got to work with an enthusiastic team of both beginner and veteran archaeologists, all with an interest and passion for it. Working together with the goal of uncovering a part of the Maison Dieu's history, I understood how important teamwork was in archaeology. Communication with the team to get the job done efficiently and to discuss potential findings was important as it allowed us to share ideas and communicate what needed to or what could be done.
Let's Dig! by Tanya Ryder, second-year Creative Writing student
Although I love nothing more than spending my free time ambling around a beautiful old castle or an idyllic stately home, I am no historian. So, when I found myself at an archaeological dig as part of my university work placement, I was more than a little surprised to discover just how much I enjoyed it. After donning my hard hat and working out the difference between a spade and a shovel, I threw myself into it and began to dig….slowly. It's harder than it looks!
For the first hour or so, I just dug….and dug….and dug. But when my spade connected with something solid, I got excited. I downed my spade, forgot the manicure, and dived in hands first….and wow, was I rewarded!
As I pulled out what I first thought was a piece of brick, it occurred to me, 'hold on, this is a medieval building. They didn't use red brick.' When I realised that it was an almost complete tile, still with glaze, I became so animated that I think the other volunteers may have thought I had found gold. As far as I was concerned, it was!
After presenting it to our resident Maison Dieu expert, he concluded that it was most likely Tudor (1485-1600ish) and was, most definitely, our most important find of the day…so far. I was more than happy with that.
As the week progressed however, my excitement faded (somewhat), when volunteer diggers discovered over 50 small fragments of decorated glass in a rubble layer beneath one of the Stone Hall's medieval stained-glass windows. Having since been examined by experts, the fragments are thought to be original to the building and dated around the late 1200's/early 1300's. Amazing!!
Later in the week however, my excitement levels were raised again when [my] tile was more closely examined. Following the discovery of several more pieces, experts concluded that it was Flemish and that it most likely, had been imported from Belgium or the Netherlands somewhere between the early 14th and 16th century. It was also found to have grooves that would have been caused by a badly fitting door scraping across it. I was thrilled. I found that!
As I've said, I'm no Historian, but to play a small part in such an important discovery, made my day. And it has, most definitely, inspired me to become a regular volunteer on future archaeological digs. I honestly didn't realise that local history is so interesting.