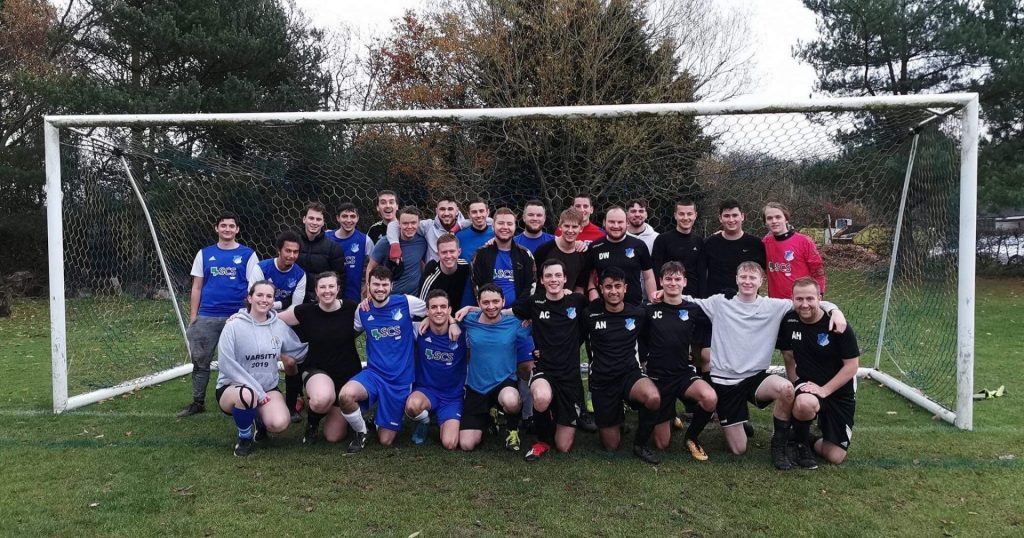 At 2pm on a cold but sunny Sunday in December, many students will just about be rolling out of bed and staggering to the kitchen for something to help soak up Saturday evening's extravagances. But not the lads and ladies of Hazelheim FC – the official football club of CCCU's Primary Education programme.
Hangovers were swapped for headers and every shot not imbibed the night before was one taken on goal in a charity football match to raise money for Hoo St Werburgh Primary School and Marlborough Centre in Medway. The fundraiser was the latest in what has become a series of events supporting local causes and organised by second- and third-year Primary Education students.
Part of the same school setup, the Marlborough Centre element of Hoo St Werburgh Primary provides specialist facilities and provision for children with Autism. In fact, the whole school has an ethos that is set up to provide inclusivity to those with special educational needs. As part of this, the Marlborough Centre has been fundraising to build a play area that will allow children to access equipment that will help support their sensory needs, and gain more enjoyment during play.
Sam Lovey, a third year on the course, takes up the story…
"Over previous years, Primary Ed has been very active in supporting worthy causes – and especially ones that we directly interact with. Hoo St Werburgh Primary School and Marlborough Centre have strong links with Christ Church, being one of the schools where students can go for placement, and it is also one that I know personally. We wanted to ensure that the fundraising we did had a beneficial impact on the school and its pupils, and on future placement students from the Primary Ed course."
The charity football match, which took place on December 1st at the Stodmarsh Sports fields near Canterbury, ended up taking on a bit of a life of its own. The initial fundraising target was smashed, with over three times the amount making its way to the school.
Sam continues: "When myself, Arthur Carey and Ashley Head – both in their second year of the course – started promoting the Hazelheim FC match we had an intended target of £400. Between us we got a bit of a buzz going, pitching me and Ash, as captains, against one another! By communicating with friends and other people around the university as well as promoting it through the CCCU Primary Education and Hazelheim FC Twitter profiles we managed to make a lot of people aware. As a result, we smashed our target by raising over £1300 in total!"
If you're wondering why the Primary Ed team is called Hazelheim, it's because of a tradition of naming successive teams after course tutors. In the past, Year One Placement Lead, Gill Brundle, gave her name to 'Gillingham Brundlers' and Anthony Clarke, Year Two Lead Tutor, gave his initials to AC Milan. Hazelheim comes from Year One Lead Tutor, Hazel King.
Sam continued: "Since starting on the Primary Education programme I've found everyone to be really friendly and there is a lot of interaction between all three years. This closeness has really paid dividends – literally – by enabling us to reach more people and raise more money!"
As for the result of the match, Team Sam saw off Team Ash with a solid 5-3 victory!
On Twitter, the Marlborough Centre said, "Amazing result for our children! [This] will make a huge difference towards the dream of a new and appropriately equipped playground. [We] Cannot thank everyone involved and everyone who donated enough!"
At the time of writing the gofundme page is still live and taking donations.
Learn more about our BA in Primary Education and how you could become part of this tight-knit community!