Diana Strauss, Senior Lecturer in Childhood Studies gives her reflections upon Children and Childhood for United Nations Universal Children's Day 2018:
International Children Day on 20th November 2018 also coincides with the 80th Anniversary of the Kindertransport. On the evening of November 15th I attended a very inspiring evening at Quaker Centre, Friends House, Euston to commemorate the eighty year anniversary of the decision by the British government to allow approximately 10,000 (mainly Jewish) children to travel to this country and take refuge with volunteer British families who willingly opened their doors to strangers and who, out of their own pockets, donated £50 towards the expenses of this operation. That's nearly £2400 in today's money.
Thankfully for us, The Society of Friends (Quakers) arranged the £50 bond for my Dad. They found a family to take him in and provided him with a home environment where he could survive his childhood. He has written his memoires and says that his recollections of his primary school days in Germany are hazy. However he does remember the day the whole class had to start standing up and saying 'Heil Hitler' when a teacher came into the room,
"Raising our right arm in the Nazi salute as we did so, and also standing in a hollow square formation on the school playground, which was surrounded by a wall, and saluting the swastika as it was hauled up the flagpole while singing the 'Horst Wessel' song, which I think had by then become the German national anthem"
Although he is able to recall many happy memories of excursions into the country, winter sledging and skiing, and playing with friends at school and in the neighbourhood, he says that he remembers the shock when none of the children wanted to play with him, and even the teachers didn't want to teach him any longer.
Tragically even worse stories of child refugees who are fleeing persecution and violence is current news Sage Passage. Lord Dubbs is trying to follow in the footsteps of the late Sir Nicholas Winton who saved over 600 children from Prague in 1938-9, as the You Tube clip of 'That's Life' in 1988 shows. Happily my grandparents escaped and were reunited with my Dad, once again, thanks to the Quakers.
You may hear accusations that immigration costs the UK dearly by taking jobs away from British youngsters, and by making demands on the NHS. But we were given many examples of Kindertransport children who had gone on to take prominent positions in business, science and medicine. One son of a Kindertransport child who spoke was Sir Simon Wessely, Head of the Institute of Psychiatry, King's College, London. We were reminded that if we are unfortunate enough to have to go to an A&E, we are far more likely to be treated by an immigrant than to find one in front of us in the queue. The challenge to everyone is,  "They did it 80 years ago – we can do it today. It's Our Turn!"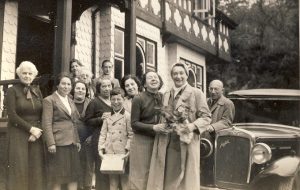 My Dad in the front row, surprised and delighted to be reunited with his parents (and a number of other Jewish refugees) who were given sanctuary by the Co-Operative Holiday Association in a mansion called Lledr Hall, located in the hamlet of Pont-y-Pant. "This was a happy time, I recall, partly being with my parents again, partly because I appreciated the beautiful setting of The Hall".