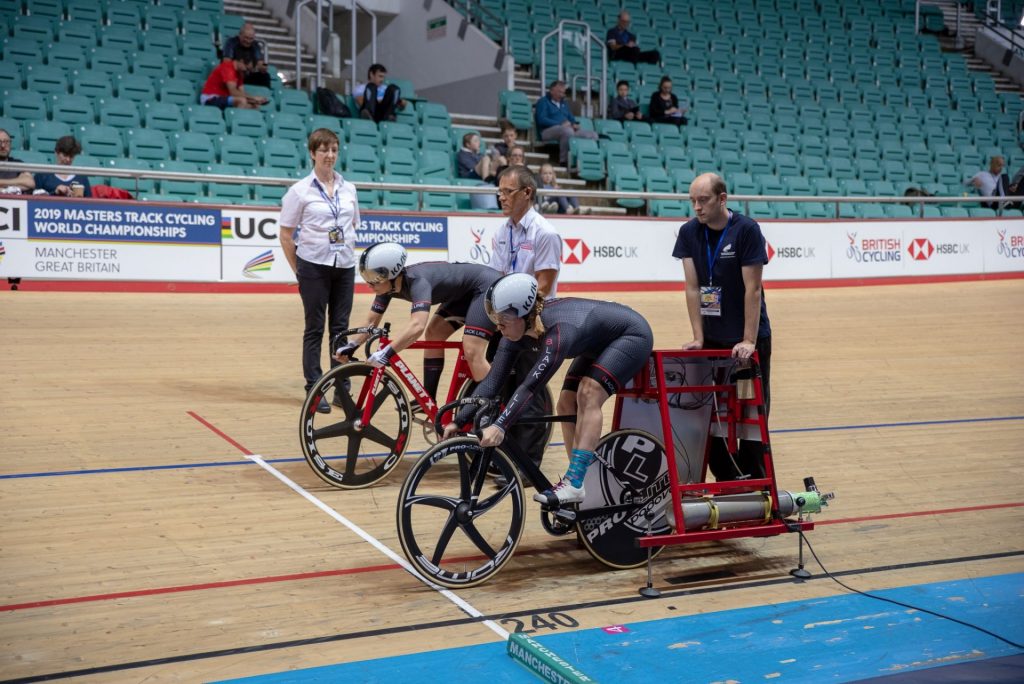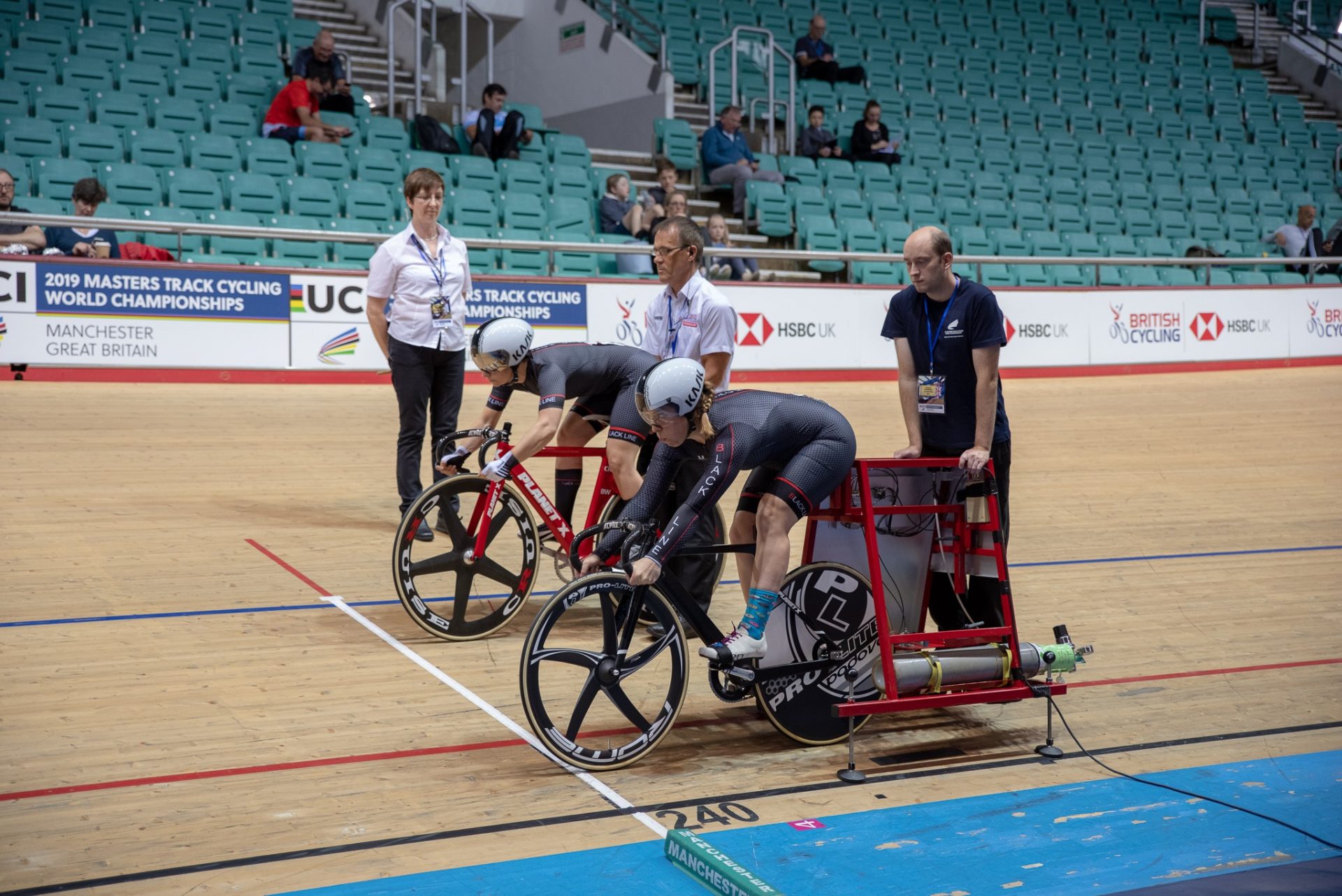 It has been a good season on the track for Dr Kristy Howells. The Reader of Physical Education and Sport Pedagogy has a stellar record in competitive solo and team cycling over the years; 2019 was no different.
Dr Howells' successful year in competition was topped off by being part of the team to take victory in the Women's Team Sprint event at the British Masters Track Championships, which took place in Newport, Wales, back in June. More recently at the World Masters Track Championships, Dr Howells' team, Sirens of the Pine, picked up silver in the Team Pursuit event.
Their time of 4.50.070 was agonisingly close to victory, ending up just 0.02 seconds off of the gold medal place. Prior to the final, Dr Howells' team even set a new world record time in qualifying – a record that stood for five hours before nine seconds was knocked off in the gold/silver medal ride off, which demonstrates just how strong the field is in the World Masters series.
As well as team pursuit success and a 9th placing in the team sprint at World Masters, Dr Howells' individual performance has seen her take eighth in the World 2km Individual Pursuit, and 10th in the 500m time trial. Thanks to such a strong overall performance through 2019, she has been awarded a place on Ashford Leisure Trust's Talented Athlete Programme (for the third time, having been awarded in 2016 and 2017). Through this, Dr Howells and other talented athletes within the Ashford borough are awarded bursaries to support them in achieving their goals in their selected sports.
Applying sporting success into research and teaching
As Reader in Physical Education and Sport Pedagogy, Dr Howells applies her personal experience as an athlete to both her research and her teaching. She also recognises the importance of being a role model for both children and adults alike. By her own admission she "lives and breathes the importance of physical activity, physical education, sport and movement and fluid intake to help with physical as well as mental health".
Unlike many academics, who have typically focused on secondary age children in their research into physical activity in the school setting, all of Dr Howells research focuses on young children. Within her doctorate she studied children the physical activity levels of primary school age. This novel focus provided useful data into how perceived and actual physical exercise matched up in a primary school setting, as well as helping to understand where these levels of physical activity sit against the WHO's recommendations.
She continues to research and teach with a focus on Mastering Primary Physical Education and publishes both internationally and nationally on a range of areas. These include physical activity, physical education and most recently on the importance of fluid intake and young children's understanding and knowledge of what and how much they should be drinking. This again was matched against the recommended guidance.
More recently, Dr Howells discussed the positive effect that physical activity and exercise has on the mental health of not only young people, but also on the teachers whose job it is to educate them. With teachers in such a pressured environment, she notes that it's difficult for them to become wellbeing role models when they themselves often struggle to look after their own physical and mental wellbeing. Addressing this issue through encouraging staff to better connect with one another, take art therapy and even circuit training could be as impactful – if not more impactful – than offering additional training.
Dr Howells own involvement in sport evidently comes into play; "Being actively involved in life long participation in sport, physical activity and movement can enhance feelings of connectedness, remove the feelings of loneliness and hopelessness and thus reduce feelings of suicidal ideation," she states.
She continues to advocate for the importance physical activity for all ages and emphasises the vital need to encourage a life wide excitement for moving, so everyone can move just a little more to ensure they have fit and healthy lives.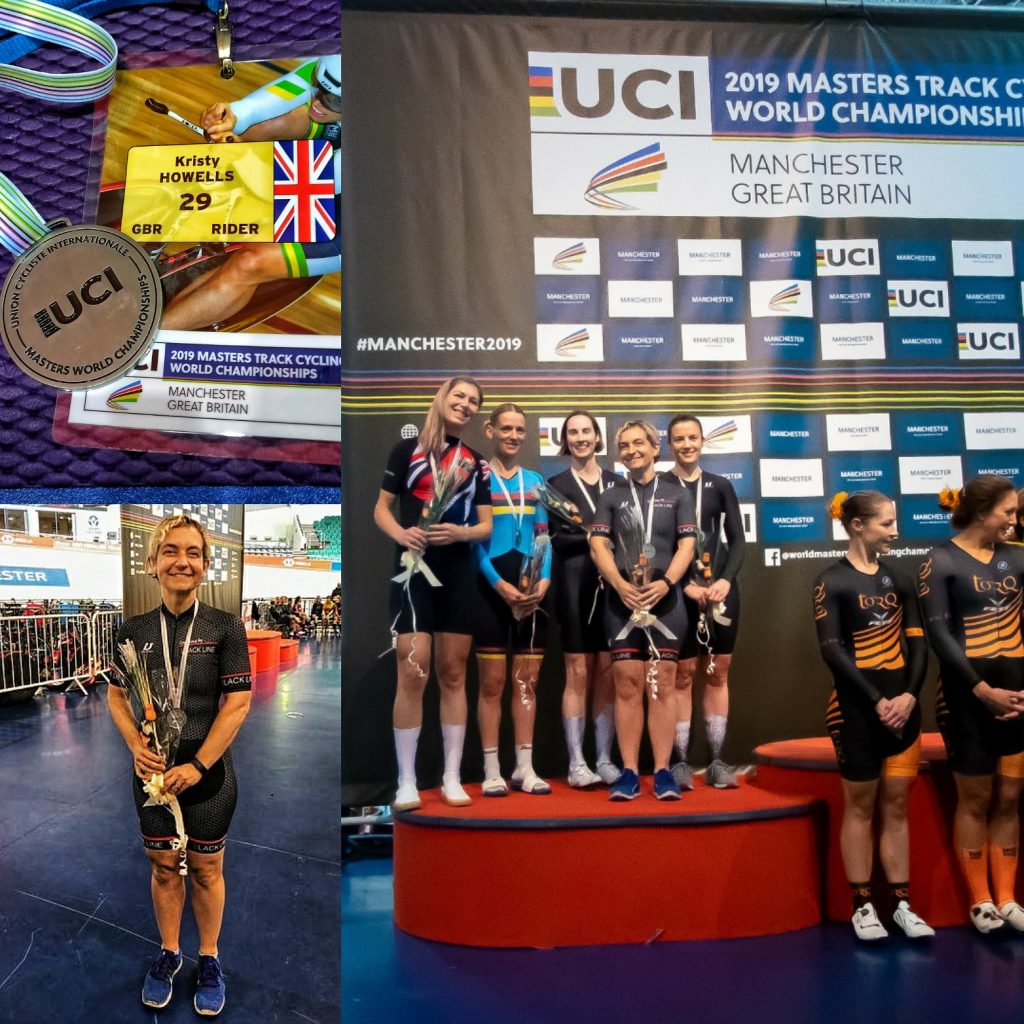 If you want to find out more about Dr Kristy Howells and the programmes she teaches on, visit her profile on the Canterbury Christ Church website.