Dr John-Paul Riordan writes about Makaton:
Makaton is a sign and symbol language programme used by children and adults with speech, language and communication difficulties and their families, friends, teachers, carers, etc. The signs (hand gestures) are derived from the language of the local deaf community (British Sign Language in the UK). Each sign has an associated symbol, which is a carefully designed black and white line drawing. Signs are divided into a core vocabulary of 450 concepts and a resource vocabulary of about 19,600 concepts. Makaton is intended for use to support spoken language, so the signs and symbols are used with speech and in spoken word order. Makaton use needs only low technology hand gestures and hand-drawn or printed symbols, but can be augmented using Alternative or Augmentative Communication devices. Below is an example of the symbol and sign for 'learn':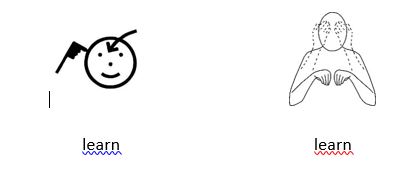 © Makaton Charity 2019 (used with permission)
Makaton is used by more than 100,000 people in the UK and has been adapted to be used in over 40 different countries (Devarakonda, 2012). It can be a really useful and fun skill to have for those working in education, healthcare, the legal system, shops, leisure, etc.
At CCCU we run Taster, Foundation and Enhancement courses every year which are open to people inside and outside the university (see the Enrichment Blackboard for details). We have a site licence for the entire Makaton Collection of 41,000 symbol and sign line drawings available to all students and staff (see 'Makaton Collection' on the public drive).
'Makaton Friendly' is an award for organisations working to become more accessible to people who use Makaton to help their communication. There are currently 360 groups worldwide with this status from Canterbury to Dubai. CCCU is the first (and only) university in the world to become Makaton Friendly. We are supporting a project led by local special schools to make Canterbury the first city in the world to become Makaton Friendly. This will involve lots of organisations joining this scheme, like nurseries and schools, care providers, charities, hospitals, cafes, libraries, museums, pubs, etc. This project will then expand to make Kent the first county in the UK to go Makaton Friendly.
Here are details of how to nominate an organisation to become Makaton Friendly. On social media please use and search for #MakatonFriendlyCanterbury. We are fundraising to support local charities who may not be able to afford the training costs. If you know of anyone who might be interested, please pass on this message.