Integrating communities through the arts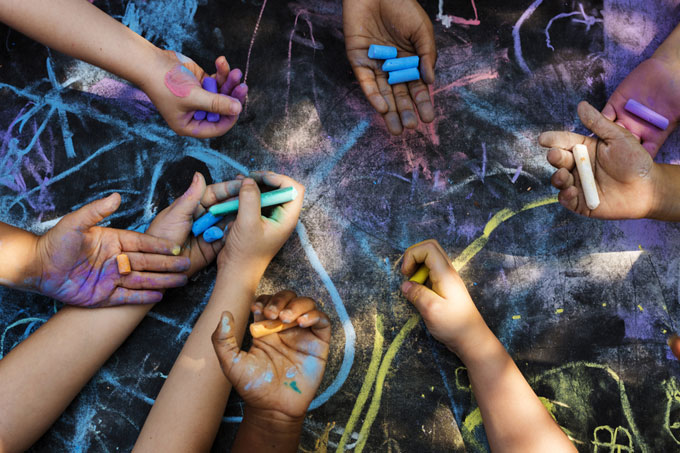 Dr Jonathan Barnes and Alex Ntung explore how activities such as dance, drama and art can help migrant children regain confidence and trust and lead to successful integration.
The government's Integrated Communities Strategy is the latest in a series of schemes designed to improve cohesion in UK communities.
Local authorities in Bradford, Blackburn, Peterborough, Walsall and Waltham Forest have been assigned extra help to address what Dame Louise Casey's Review called 'worrying levels of segregation and social exclusion'
The UK is indeed super diverse. 20% of the population now identify as belonging to an ethnic minority, 13% are foreign born. We are diverse in other ways too, around 25% of us have 'no religion', about 4% are Muslim and just over 1% Hindu; 2% of the population identify as Lesbian, Gay, Bisexual or Transgender.
Such diversity has huge potential for our creative and service-led economy, but we suggest that the social cohesion needed for growth arises from shared values.
Communities Secretary Sajid Javid is right when he says Britain, 'cannot ignore the fact that in too many parts of our country communities are divided,' and we have seen these divisions in schools as well as society.
The Integrated Communities 'Green Paper' seeks to address such divisions by including recommendations from the Casey Review, notably:
extra support for English Language teaching for new migrants.
schemes to encourage 'lasting relationships with those form different backgrounds'
the promotion British Values in schools
Identifying and promoting successful approaches to integration.
English language teaching alone does not produce integration – making the learning of English the main indicator of integration can easily contribute to the idea of 'otherness'.
Inclusive values like respect, democracy and justice are ways of being, that can only be learned from involvement; they are fundamentally independent of language. Understanding and speaking English is undeniably important and smooths cohesion, but alone it cannot engender positive, trusting and lasting relationships.
Following the Bradford and other riots, there has been growing dissatisfaction with multiculturalism and assimilation policies which reinforce the 'parallel lives' the Casey Review speaks of. There a need for a comprehensive, inclusive and strategic approach committed to achieving the diversity advantage and preparing all young people for life in modern Britain.
In our diverse society inclusion must recognise the value of diversity while doing everything possible to increase interaction, mixing and hybridisation between communities.
Schools are the places for these changes. We believe they have to build an ethos where such integration is natural and conditions are created to build positive identities around the young's easy abilities to form relationships.  The arts, sports and humanities are the curriculum places to do this. In these areas education institutions can identify, enhance and harness the skills and talents of all – empowering them to become productive members of society. Arts in particular offer opportunity for all to participate, grow and contribute to a newly created cultural landscape a space where inter-culturality flourishes through meaningful contact not in isolation.
The schools we currently work with are building new cultures. They use essentially wordless mediums like dance, drama, sculpture and painting to engender authentic, emotionally engaging and shared experience. These experiences provoke collaboration and enrich language in a real context. With refugee and newly arrived migrant young people we have invited schools to rediscover shared and deeply human values like trust, caring, kindness, community, empathy and friendship. We have witnessed many successfully integrated multinational groups stretched in authentic art-making contexts where trust is given and received, empathy, caring and compassion arise naturally and English is used and developed because it is truly meaningful.
Alex Ntung is an Associate Lecturer in the Faculty of Education and Dr Jonathan Barnes is a Visiting Senior Research Fellow also in the Faculty of Education. They are also co-founders of Education4Diversity working currently with Scarabeus Aerial Theatre.