Dr Jude Graham- Championing Mental Health Research, Practice Development and Innovation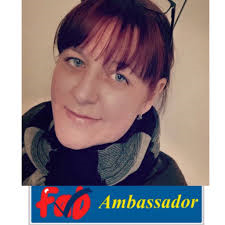 In April 2017 I completed my Doctorate studies, my research explored the ways in which repeated exposure to traumatic workplaces, events and people who exhibit potentially traumatising behaviour, influence clinician decision making and judgements. My thesis was published last year, this is the link:
https://derby.openrepository.com/derby/handle/10545/621569
In January 2017, I successfully gained funding and support from the Queens Nursing Institute and Burdett Trust for Nursing, as a part of their fund for Innovation and Leadership. I worked with a team in my Trust to focus on a 'Healthy Man Project': Improving the Physical Health for Men diagnosed with Psychotic Illness – reporting results for 50 patients in an enhanced clinic.
The results showed a positive increase in physical, mental and social health and health and wellbeing of patients because problems are identified early and intervened with. Many outcomes were achieved, a few highlights include:
21% of patient's engaged in active smoking cessation and reduced their smoking.
46% of patients lowered their blood sugar during clinic attendance by between 1-6 points.
10% of patients achieved a measured weight loss which was demonstrable in terms of a reduction in waist circumference of between 7-20cms.
34% of attendees achieved a BMI reduction of between 0.8-3.5 points.
The project also increased volunteer opportunities and skills for volunteers, which supports their occupational opportunities. And during the study an education video was made to support patients and carers to conduct focus groups.
20 months ago I commenced my role as the Freedom To Speak up (FTSU) Guardian for the Trust. My Trust was an early adopter for the concept, and I have subsequently presented at the National FTSU Conference in Westminster and co-presented a table to session at this conference with Dr Henrietta Hughes and Sir Robert Frances. In the last year I have continued this work and also become the Chair for the Yorkshire and Humber FTSU Guardian Network. I hosted a visit for the National Guardian for the NHS in December 2017.
Over the past 18 months I have worked with a number of clinical and managerial teams using a Listening into Action (LIA) approach, we have now published over 165 change stories, below is a summary video in regards to this:
https://www.youtube.com/watch?v=2SyW7pH8Wk0
Alongside of the clinical and support service changes, I have also worked with staff concerning community health and wellbeing activities. This has included various charity runs, and also at Christmas this year, a 'reverse advent calendar' appeal, focussed upon filling rucksacks with food, hygiene products and also socks, hats and gloves. This gained huge support, and we filled over 120 rucksacks and distributed them to help improve Christmas for people who are less fortunate in the region.
Picture with Kathryn Singh (CEO RDASH), Steve Hackett (Director of Finance) and Rosie Johnson (Director of Workforce and OD) – With 120+ rucksacks filled and collected for distribution, to families, young people, children and older adults in need at Christmas.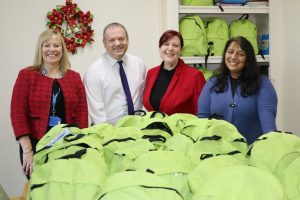 I am now using LiA to lead our Trusts Retention programme, jointly working with NHS Improvement – Professor Mark Radford, and in the past 6 months have presented the retention work at National Workshops alongside of NHSI to Nurse Directors and HR Directors.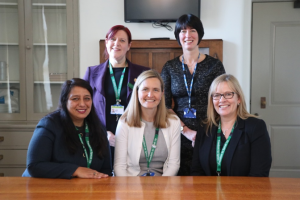 Finally, I have continued my work as a Fab Ambassador, working with staff over the NHS Change week, many of the stories related to this are published on the 'Fab NHS Website'. I have been interviewed as a part of the 'Humans of the NHS Project'  And I have continued to work as one of three clinical board members on the NHS Confederations Mental Health Network Board – here is the web link: http://www.nhsconfed.org/networks/mental-health-network/our-people/meet-the-board#JudithGraham