Dr Gaia Del Negro – Professional creativity and learning in health and education
I had forgotten how to play imaginatively with my physical body/being, using it as an instrument of expression. The movement that was created caused a shift, I noticed strength and vulnerability. I had to "let go" of my uppermost feeling, which was "I feel like a prat and I am being watched", to one of a feeling of "just be" in the moment and do what feels natural. (Nurse teacher, research participant, June 2015)
How can we learn from our professional lives and our ways of knowing?
This question is what drives me to do research with professionals in health, education and social work. Knowing is my burning question.
The research
In my doctoral study (Del Negro (2017) An auto/biographical, cooperative study of our relationships to knowing. Access: http://create.canterbury.ac.uk/16483/) I engaged two groups of professionals, in England and Italy, to reflect about their learning lives and professions. The auto/biographically oriented cooperative inquiry methodology adopted (Formenti, 2017; Heron, 1996) allowed us to understand professional practice and identity in a multisensory and multimodal framework: that means, by engaging in drawing, assembling objects, picking images, and looking at literature and films.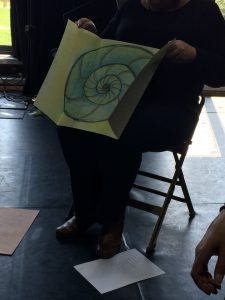 Fig.1 Presenting drawings on the figure of the mentor, April 2015.
Writing was used in different forms, both autobiographical and poetic, to tell stories and make meaning out of experience. Ideas about knowledge and knowing were explored through a sensuous language, allowing unusual associations and insights, like in the poem below by a social work coordinator (research group in Italy, March 2015):
WISDOM
Tasting
Something
Savoury
Taste
Fishing
A heavy
Treasure
And sharing out between us
The king's booty
Thinking
And at times out of fear disappearing
Yet coming back
Wise.
Some lessons learned
As a result of my research, there are some initial ideas that I think I can offer in relation to the focus of the England Centre for Practice Development on person-centred care and services that 'bridge the gap between the rhetoric and the practice of values and workplace culture'.
These are methodological indications to make research a developmental practice that is inclusive, critical and open to change.
a) Learning from our lives
Co-operative inquiry (Heron, 1996) offers a framework to draw on multiple forms of knowing, like affects, perception, imagination, and rational thinking, increasing our capacity to learn holistically from our lives. Auto/biographical research (Merrill and West, 2009) further sustains the inquirers to look at how we story others and are storied in relationships and organizations, as persons and professionals.
b) Care is inter-subjective
When all those involved take care of the language, space, time, etc., dialogue can start to happen, difficult questions can be asked, and power negotiated. The learning starts from the space of the research, as new knowledge about self, other and work practice emerges intersubjectively during the research.
c) Art, reflexivity and unknowing
By engaging with art through critical and creative practices, professionals in health and education are supported to let go of their supposed knowledge and embrace not knowing. This is a good place for creativity to emerge:  
… I should like to ask you, as best I can… to be patient towards all that is unresolved in your heart and to try to love the questions themselves like locked rooms, like books written in a foreign tongue. Do not now strive to uncover answers: they cannot be given you because you have not been able to live them. And what matters is to live everything. Live the questions for now. Perhaps then you will gradually, without noticing it, live your way into the answer, one distant day in the future. (Rainer Maria Rilke, 1929, Letters to a young poet)
Supporting professional agency
This kind of setting can make a difference by building resources of hope. Whilst it is not therapy, it can be therapeutic (Bainbridge and West, 2012). The approach builds on the professionals' knowledge, and challenges meaning perspectives that are taken for granted by way of refracting experience through an interdisciplinary lens.
So, what is the value of critical-creative research practice? For me the value stems from the possibility to support professional agency in neoliberal times when professionals are often asked to accommodate with logics of efficiency and accountability (Ball, 2010) that squeeze out the mystery and interconnections of human learning (Bateson, 1972). In runaway professional worlds, how can we feel and think our way through practice?
What's next?
In my capacity of Research Assistant to the Faculty of Education, I have recently supported colleagues' research projects at Canterbury Christ Church University about
parent collaboration in early years settings
arts education in special schools
voluntary action in primary schools
supervision to headteachers
hermeneutics in religious education
I have also participated to a wonderful research about digital spaces for art-based adult learning by a colleague at De Montfort University.
I am proud and curious to enter the community of the England Centre for Practice Development, where I offered Embodied Narratives workshops for healthcare professionals. As I go back to Milan to work with the University of Milano-Bicocca, I hope to expand my collaboration with the ECPD network to do more creative research on professional lives and practice. As poet Antonio Machado said, "we make the road by walking…"  
Author: Gaia Del Negro, PhD, Canterbury Christ Church University. Researcher, Adult educator, Traveller. E: gaia.delnegro@gmail.com.