Joyce Armstrong – Creative Identity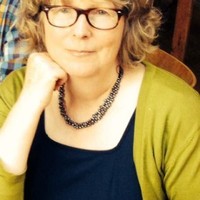 My most recent work was commissioned by Live Well Kent/Shaw Trust, providing the art studio model of sessions I have been developing. These culminated in an exhibition at The Horsebridge Gallery, Whitstable in February of this year.The aim of the service is to facilitate a sense of inclusion, challenge stigma and contribute to recovery utilising the healing nature of art.
The groups are based upon the art therapy principles of creating a peaceful milieu where people can discover a creative identity and thus increase self-esteem and a sense of self based on wellbeing rather than mental ill health. Emphasis is placed upon the idea that art is not about being skillful at technique but is about expression and exploration. The groups are non-judgmental and non-directive. Volunteers with lived experience who actively practice as artists contribute to the belief that 'we are all here for different reasons but we're all here for the same reason', namely to create art.
'Owl'
Watercolour
"Creating art is a powerful way of expressing our myriad feelings – from joy and love to trauma and depression. Even in the darkest day a paint brush and some paint can soothe and calm the mind.
Art gives structure in a fragile and often frightening world. We can create shape, form and merge colour.
Best Art is universal. Words are not.
Sadly, adults are pushed away from creating ourselves. As children we all loved painting and moulding. We loved the textures, the colours and the tactile movement of paint or plasticine. As we age we learn to judge and criticise ourselves and our self worth and finally stope as we are forced to begin the tiresome process of fact building at school. We lose that essential part of us inside – the part of creative learning in which we become – simply US.
We chastise ourselves, shame ourselves. We are never good enough, not intelligent enough, never talented enough. We learn frustration by our inability to draw or paint like the artistic masters. We give up as failures. Yet the difference between a 'master' and us is that we lose the magical ability to simply 'see' the world and express it in our own eyes.
Creating art is in all of us as adults if we are willing to trust ourselves, to not beat ourselves up and enjoy the child-like delight of art again.
I love watercolours because they are so chaotic – the balance between the water and the colour is never the same again – the colours move, bloom ad merge delightfully. As in life, I cannot predict the outcome. My art is a colourful, chaotic jumble of fantastic opportunities.
Working with the groups as a peer volunteer has given me purpose and structure and I can help others – I never thought I could be useful again. I cannot express my gratitude enough."
Helen Gillis
Peer volunteer
'Pastels at dawn'
Oil pastel on canvas board
"I think I'm an artist. I don't do much art these days, but it's what I trained in, years and years ago. Days long gone and long forgotten. And so when I was offered the opportunity to join this group, I was far more interested in the group aspect than the prospect of painting again, having undergone many fundamental changes to my gender and identity since those distant, far off times. Would I know what to do? What to say? How would I be received? Would I be accepted? Or laughed at even? 
It does happen, frequently. But soon after beginning my picture, the excitement returned and I had no trouble concentratingandsettling into my usual working mode. No surprise really but then there was the group. Uncharted waters, uncertainty, nervousness, engrossing, embracing, a revelation! Acceptance of a sort, respect from other members, a shared experience, praise received and given, fitting in, belonging. A purpose for being.
I expected a white knuckle ride, but instead I had a cruise with Rob Brydon. Three weeks of positive encouragement, working with confidence and belief, growing ambitious to maybe work on after the group, a totally unexpected bonus! But that wasn't the best of it. Sharing ideas, listening, respecting, different perspectives, artists of differing levels of experience, but equal weight and just as valid. And why not? Sharing. Generosity of praise. A good feeling, a productive ambiance, an environment so well suited to creativity. A rare thing, not normally encountered ever again after the end of student days, but what a pleasure! Schoolchildren having fun, but serious in intent.
And that is the point for me. It's the picture, the end result. But not merely that. Where will it lead me to when the group is long gone? Right now, I can't say, but I am working on it. Believeme, after this, I cannot fail to be inspired! Thank you, you took a chance on me, an unknown quantity, and I hope the benefit to me is balanced by my contribution. I will remember the group for a long long time, and will now continue on my own. I am an artist once again.Trust me!"
Jenny Clark