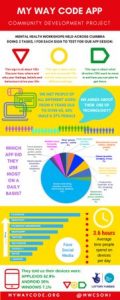 My Way Code: a mental health programme for young people and adults to help build emotional resilience, autonomy, personal responsibility and identity.
My Way Code will be a person-centred app to help people navigate their best lives. Using signs, maps and tools My Way Code will ask questions in a private, fun, interactive way, giving the user the opportunity to learn about themselves and build their own personal toolkit of resources on the way.
Devised by Soni Cox, an experienced and BACP accredited Counsellor and Supervisor. The idea and innovation for the My Way Code programme is developed from her client work – creating an opportunity via technology for anybody to work through the life lessons not all of us get to learn safely in our own development. They can choose the depth of their work, finding their own way through the life journeys; regularly reviewing, tracking and celebrating progress. It is for everyone to maintain good mental health.
We have run a community development program co-designing content for the activities and in partnership with the WHIS (World Health Innovation Summit), we have developed, piloted and launched the first core journey (Physical and emotional Health) a Primary School Program using My Way Code as the framework.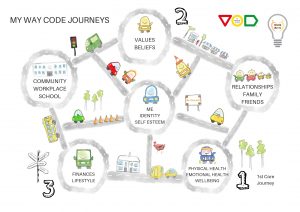 So far, more than 2000 children have taken part in our local Cumbrian Primary Schools and we have now released the content in the form of a manual, so it can be delivered in the UK and abroad. We now have Associate facilitators from across the world including USA, UAE, Brazil, Switzerland, Norway, Nottingham and London.
Gareth Presch, the founder of WHIS, has been appointed an expert lead for delivering SDG3 Good Health and Wellbeing & SDG4 Quality Education for the UNSGII Foundation's project to deliver all 17 SDG's into 25+5 Cities around the world by 2030 with interest in WHIS's programs being part of the solution in delivering these aims. This opportunity for WHISkids for under 11-year olds and the digital WHIS My Way Code App partnership for young people and adults means there are exciting times ahead in making a real impact on people's ability to navigate life making healthier choices for themselves, their families and communities.
Soni Cox
Creator
My Way Code CIC
Mental Health Programme and App
t: @MWCSoni
I: @mywaycode