A week of Prayer for the Campus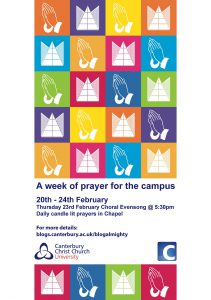 Next week we will begin a week of prayer for the (Canterbury) Campus. This is the first of four such events where we will be praying our way around CCCU. Prayer lies at the very heart of the Christian tradition, upon which this institution is grounded and is very much a part of the day to day life of the University with prayer happening daily in chapel and a well sourced chaplaincy readily available to provide support for all staff and students.
As a University built on monastic land are heritage is much older than the mere 50+ years of our current incarnation. Education, learning, music, study, work and prayer have all been happening in this place since at least  632CE, with the abbey becoming a centre of pilgrimage and musical and educational excellence in that time. St Augustine's Abbey was a thriving monastic community that followed the rule of St Benedict and would have been strict about offering everything they did up to God in prayer. Our own campus still reflects that heritage with not only historic physical reminders present in terms of the old brew house wall still standing near Powel and Maxwell Davies, but also within our own architecture and life style. The Central quad around which the University is built is based on a historic monastic model, representing the key aspects of body (food court) , mind (library and book shop) and spirit (Chapel) united round a communal living space, whilst in reality the architecture is now slightly fractured with the library existing over in Augustine House and  the open quad becoming enclosed on two sides its meaning and essence remains the same. And in recent years with the Beer, Bread and Honey projects being pioneered by the sustainability team and adopted by the community as a whole we have seen a re-emergence of many of the agricultural aspects that would have been present on this site when it was a thriving monastic community.
It is against this back drop that we invite you to continue with us in that daily act of prayer. On Monday the 20th Feb we will begin a week of prayer, inviting people to join with us in person, or on line in praying for the community. We will offer daily online devotions and a chance for people to send in prayer requests for people, faculties and buildings all of which will be added to our very large campus map in chapel where people can come and light candles and add their own prayers and thoughts.
Thursday 23rd will be a Chance to join with our choir and regular congregation as we draw the week to a close in music, word and prayer. If you enjoyed carols by candlelight this will be another chance to hear the Chapel choir in action.
Watch out for our updates on Twitter and Facebook and get involved. This is not just my University after all this is our University.