Innovative partnership working between Canterbury Christ Church University and East Sussex Healthcare NHS Trust lead to a 30% increase in placement capacity for Year 1 Speech and Language Therapy students.
By Jane Horan, Placement Lead, Speech & Language Therapy, Canterbury Christ Church University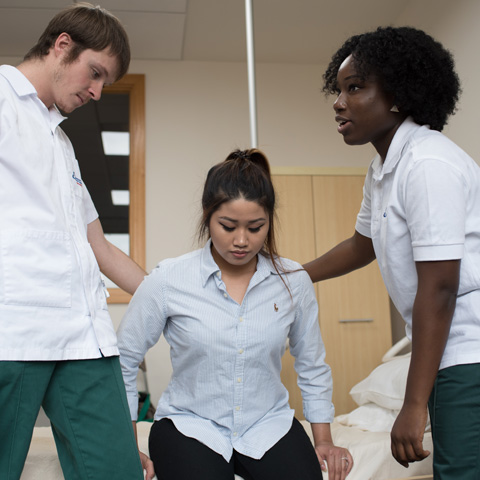 Shortfalls of placement offers during the COVID-19 pandemic put 11 of 36 Speech and Language Therapy (SLT) students at risk of incomplete clinical hours, jeopardising the future AHP NHS workforce.
The Faculty were determined, despite COVID-19 challenges, to provide innovative and safe clinical placement opportunities to support Year 1 students to complete their 112 hours of practice. This required the evolution of existing, sustainable partnerships between HEI and NHS Trusts whilst providing new opportunities.
By June 2021, Canterbury Christ Church University (CCCU) aimed to have provided clinical placements for all Year 1 SLT students and ensured they fulfil their clinical hours for the academic year (approx. 112 hours). We aimed to build sustainable partnerships and provide opportunities for knowledge exchange between HEI and NHS placement providers.
Early identification of the problem led to early intervention. The Placement Lead at CCCU reached out to neighbouring NHS trusts to see if Year 1 SLT students could gain clinical experience without face-to-face working. After an initial meeting between with East Sussex Healthcare NHS Trust (ESHT) to ensure students would fulfil HCPC Standards of Proficiency ESHT offered virtual, project-based placements for 11 Year 1 SLT students over 6 weeks.
This increased placement offers for this cohort by 30%.
ESHT identified 5 key areas for service development including 'Creating Communication materials for ICU' and establishing 'The evidence base to support the SLT role in End-of-life care.'
All 36 Year 1 students were provided with clinical placements and fulfilled their clinical hours for the academic year. Recognising this sense of achievement is important for future retention.
Via collaborative working, CCCU and ESHT built a sustainable partnership.
Four of the five projects were completed within the six-weeks and CCCU provided opportunities for knowledge exchange by inviting students and ESHT to participate in an online information sharing event on 21st June 2021.
Key learning points:
1. Feedback surveys, including all participants, indicated this novel approach worked well
2. Patient centred approaches were evident in students' work, which was beyond practitioners' expectations
3. It promoted learning and research beyond the expected boundaries
4. It provided experiences that led to a CCCU student nomination for a 'Student Future Leader Award'
5. It provided opportunities for PEs to reflect on their expectations and communication styles which will enable enhanced student experiences going forward
Sharing and Implementation of practice:
The success of the ESHT placement has changed the face of practice-based learning at CCCU. Students not only fulfilled their clinical hours but gained experience in communication, interpersonal skills, research, partnership working and evidence-based practice. Though COVID restrictions have given us a platform to develop creative ways to develop our future workforce these learning opportunities will extend beyond COVID. There are plans to share this experience at the Sussex ICP AHP Educators Network, local AHP conference, RCSLT bulletin and with AHPs in the Faculty of Health and Wellbeing (CCCU).